Full Court Press Breakdown for NBA DFS 3/1:
Welcome to another year of the DFS Army NBA Full Court Press! Members had a ton of success using the Full Court Press along with various articles and tools that DFS Army provides last season, so we are glad to be back with another year of the all-inclusive article. You have to start your research somewhere, and oftentimes going game by game and breaking down every matchup and its key players is the first step in our process. My name is Steve aka @Mutt18 on Twitter, make sure to give me a follow as I'll occasionally make updates to the advice in the article. But, you'll mostly find me in our VIP coaching forums where I provide detailed lineup maneuvers and answer all lineup questions. We also have NEW pricing options, where you can sign up for WEEKLY access as opposed to be committed for a full month, so you have no excuse to try us out! With that said, let's get it started!
The winning has come early and often this season! Congrats to VIP Member – "TheSoprano12" on his $100k NBA win!! Adding to the list of winners already this season!
Dallas Mavericks @ Orlando Magic
Vegas Total: 226
Vegas Spread: Dal -7
This isn't a game that we'll be heavily targeting as the total isn't great, and the Magic have been sliding over the past few weeks since Gordon went down. For the Mavericks, it appears as though they are back at full strength, as Kristaps Porzingis returned to the lineup and had a really solid game last time out. He's a great play again here tonight. The total on this one isn't great, but obviously Luka Doncic is a top play here, as he is a walking triple double and no one on this Magic team will be able to contain him. Josh Richardson is still underpriced as well, and they need him to get going if they want to make a decent run in the playoffs/just get a chance to make the playoffs. However, with Luka and Porzingis both healthy its hard to pick up anyone else as those guys soak up the majority of the usage on that team. If I want to target anyone on the Magic it'll be Nikola Vucevic and Evan Fournier as they are the big 2 for the Magic team that carry this offense, both should get plenty of opportunities tonight. Vuc has been on an absolute tear over the past month since Gordon went down, and that usage will continue here as the guy has become matchup proof at this point in his career. The Mavs are allowing a lot of FPs to opposing teams as well so this is a place we can attack a bit. If you're looking to get really deep, Terrence Ross should also see plenty of minutes off the bench, but don't pair him and Fournier. If you need value, Al-Farouq Aminu has also been starting for the Magic and he's near minimum again tonight.
5-star play: Luka Doncic, Nikola Vucevic
4-star play: Kristaps Porzingis, Evan Fournier, Josh Richardson
Deeper Value: Terrence Ross, Al-Farouq Aminu
GPP Sleeper: Jalen Brunson, Josh Richardson
Indiana Pacers @ Philadelphia 76ers
Vegas Total: 223.5
Vegas Spread: Phi -5
I don't love the outlook of this game much, as both of these teams play at a slower pace, however there are a few studs here that we can target so let's dig in. First off is going to be Domantas Sabonis as he won't see a ton of Embiid on defense and he is the biggest offensive threat for the Pacers. Myles Turner has also been having a career year, and he had a really good game the other night, but he draws the most difficult matchup of anyone on the Pacers going up against Embiid. Malcolm Brogdon has been having a great year, but he missed the last game, so TJ McConnell and Jeremy Lamb may be see nice increases in both usage and minutes if he misses this game again tonight. Doug McDermott and Justin Holiday are both solid value options as well, especially if Brogdon misses this game tonight. For the Sixers, Joel Embiid has really been lighting it up lately, and while the matchup here isn't the greatest, it is still one we can target and take advantage of. He's the best play on this Sixers team. Ben Simmons has been tearing it up over the past week as well, and if Brogdon is out again here then he'll be going up against TJ McConnell who doesn't have a prayer in stopping him. Tobias Harris is a GTD as well, and after missing last game he can open up a lot of things for this Sixers team if he misses again tonight, but if he plays he is a solid cash option as always. Seth Curry is also a solid value here as well, as he'll play close to 30 minutes and he's dirt cheap on both sites. I also have some interest in Shake Milton here as he plays heavy minutes off the bench. Furkan Korkmaz would also be in play if Curry were to miss for any reason.
5-star play: Joel Embiid, Domantas Sabonis
4-star play: Myles Turner, Ben Simmons, Tobias Harris, Jeremy Lamb
Deeper Value: Justin Holiday, TJ McConnell, Shake Milton
GPP Sleeper: Shake Milton
Denver Nuggets @ Chicago Bulls
Vegas Total: 230.5
Vegas Spread: Den -5.5
For the Nuggets, Nikola Jokic is in a phenomenal spot here, as the Bulls are no long good against bigs and they've been getting gashed by them all year long, the big issue here is whether or not we think that the Bulls can keep this game close. They have been playing better basketball though, due big in part to Zach LaVine. Jamal Murray has also been on a tear for the past week or so, and his price hasn't quite caught up to his recent production and the Bulls can't defend PGs either. His price has caught up a bit though recently so it is something to think about. Harris has already been ruled out as well, so Will Barton and Michael Porter Jr. will likely both start once again here. Porter Jr. has been crushing it the past few games especially the other night. And if you think this game gets ugly then you should have some shares of Monte Morris and Facundo Campazzo as well. I still like Morris either way as he'll likely start again alongside Murray with Harris on the shelf. For the Bulls, Zach LaVine starts and ends this Bulls offense, if he doesn't get going then this game is going to get ugly fast. He dominates usage and is a top tier play here tonight. Coby White draws a decent matchup as well, but if he can't get going early then they'll go to Tomas Satoransky who is a solid value play either way. Wendell Carter Jr. has also picked up his play with Markkanen out, and he's priced right about at value. Overall there isn't much to love from this Bulls team, and if you're desperate, you can go to Denzel Valentine for value but I don't think we need to do that tonight.
5-star play: Nikola Jokic, Zach LaVine
4-star play: Wendell Carter Jr., Jamal Murray, Michael Porter Jr., Coby White
Deeper Value: Will Barton, Monte Morris
GPP Sleeper: Michael Porter Jr.
Utah Jazz @ New Orleans Pelicans
Vegas Total: 235
Vegas Spread: Uth -7
Here we finally have a game for the Jazz where it appears that we can target. This is the highest total I've seen them in so far this year, so lets see what we have. Starting with the Jazz, Donovan Mitchell is going to be your main target, but I really won't be going out of my way to fit him in, NO is solid against guards but he'll get a boost if Conley is out again. Another option is going to be Rudy Gobert, but the matchup isn't the best going up against Steven Adams who does love to bang downlow. However, that could be a motivator for Rudy as he likes to get physical as well. If you're looking for deeper GPP options, Bojan Bogdanovic and Jordan Clarkson should play solid minutes, especially if Conley is out again tonight. The guy who gets the biggest boost if Conley is out is going to be Joe Ingles as he'll play a ton of minutes in that event, and he's cheap everywhere so he'll likely be a core play tonight. Now for the Pelicans, they have been playing some great basketball lately and the total on this game makes me believe that they should keep this one competitive and they'll force the Jazz to run a bit here. For the Pelicans, Zion Williamson has been tearing it up over the past 2 weeks, and there is no one on this Jazz team that can match up with him, I like him to dominate again here tonight and continue that streak. Brandon Ingram hasn't been in his best form lately, but he had a really nice game last time out, so maybe he's starting to come out of his slump, however, I wouldn't pair him and Zion in the same lineup. Lonzo Ball also has a solid matchup, especially if Conley is out as does Eric Bledsoe. Josh Hart has also been playing heavy minutes off the bench, and his minutes are blowout proof, so I love him in GPPs tonight just like I did the other night.
5-star play: Donovan Mitchell, Zion Williamson
4-star play: Jordan Clarkson, Rudy Gobert, Brandon Ingram, Lonzo Ball
Deeper Value: Eric Bledsoe, Josh Hart, Bojan Bogdanovic, Joe Ingles
GPP Sleeper: Joe Ingles (if Conley is out)
Brooklyn Nets @ San Antonio Spurs
Vegas Total: 234.5
Vegas Spread: Bkn -3.5
This game should be interesting, as it'll all depend on whether or not the Spurs can stay competitive in this one, as they've been having a down year. For the Nets, it looks like Kevin Durant will be out again, so that puts both Kyrie Irving and James Harden in the spotlight as the matchup doesn't get much better for both of them. The Spurs really struggle to defend guards and I'd even be ok with pairing the two tonight. Joe Harris has been very up and down this year, but with KD likely still out here he will be thrust into a bigger offensive role as well. Bruce Brown has been playing heavy minutes as well, but outside of Harden and Kyrie I don't think I'll be targeting any other Nets unless we get more injury news. For the Spurs, they are still extremely short-handed here, so there will be a ton of value that we can target especially given how fast the pace of this game should be alongside the fact that the Nets don't play defense. DeMar Derozan is back and playing some inspired basketball after the passing of his father. He has been the backbone of this team for the past 2 years and if they keep this game close it will be because of him. Dejounte Murray has also been hot, but I don't love his price on FanDuel as he has climbed with all the injuries. Derrick White is also out, so that'll allow Lonnie Walker to slide into the starting lineup again, and he is a great GPP play as he can put up FPs in a hurry if he gets going, and Patty Mills will see a ton of minutes off the bench as well. LaMarcus Aldridge has been a disappointment so far this year but at his price he's clearly in play tonight given the pace and matchup of this game. Jakob Poeltl is also in play as long as he continues to start as the Nets can't defend big men either.
5-star play: DeMar Derozan, Kyrie Irving, James Harden
4-star play: Dejounte Murray, Joe Harris, LaMarcus Aldridge
Deeper Value: Jakob Poeltl, Lonnie Walker, Patty Mills
GPP Sleeper: Patty Mills, Lonnie Walker
Cleveland Cavaliers @ Houston Rockets
Vegas Total: 217.5
Vegas Spread: Hou -4.5
The Cavaliers actually have something to be excited about since LeBron left town, as their young core has been playing dividends this season as the Cavs have definitely taken a nice step forward so far. Collin Sexton has been leading the charge for the guards, as he's stepped up offensively and Darius Garland isn't far behind him. They both get phenomenal matchups here, as the Rockets just got decimated by the Grizzlies last night and guard play was a big reason why. Jarrett Allen has picked up right where he left off as well, and has been smashing for the Cavs with them looking to trade Drummond, and he gets a dream matchup here going up against the undersized Rockets frontcourt. He can run as well so I'm not worried about pace here, this is an absolute smash spot for him tonight. Taurean Prince has also missed a few games, and if he is out again tonight then Dean Wade will likely draw the start and ruin lives once again, but if Cedi Osman can find his way into the starting lineup he is a solid value/GPP option here. Osman missed last game as well and if he does so again then I'll be looking at Dylan Windler who has been playing heavy minutes off the bench. For the Rockets, they just look horrible after releasing Boogie. Victor Oladipo may play here, but he's been out and looks like he doesn't want to even be there. If he misses again then it'll be up to John Wall to carry the load offensively, but he looked lost last night as well. I think the Rockets will bounce back a bit here and keep it interesting. Eric Gordon was ice cold last night and he should bounce back here as well, especially if Oladipo is out again. Danuel House will likely also start, and he is in play here for value as well.
5-star play: Jarrett Allen, John Wall
4-star play: Collin Sexton, Darius Garland, Eric Gordon
Deeper Value: Dylan Windler, Dean Wade, Danuel House
GPP Sleeper: Dylan Windler
Charlotte Hornets @ Portland Trail Blazers
Vegas Total: 235.5
Vegas Spread: Por -7.5
Here we have another nice hammer game to target, as both of these teams have been playing at a fast pace all year and this should be a very competitive game. Starting with the Hornets, the big news will be whether or not Gordon Hayward suits up, and him and Zeller were both out last night. I'm going to write this as if both of them are out again tonight. LaMelo Ball has turned into the catalyst on this offense, especially with Graham out who appears out again tonight as well. That also thrusts Terry Rozier into play as he has shown a high ceiling in games like these, but he had a rough shooting night last night. PJ Washington also had a monster game and if Zeller misses tonight he should be able to do the same as Kanter is basically a revolving door at the rim. Malik Monk also hit the game winner and he has seen his minutes continue to trend upward. I like him in GPPs if Hayward is out again. Bismack Biyombo would also be playable here IF he starts. Now for the Trail Blazers, Damian Lillard is your obvious target here, as he has been trending in the right direction and Charlotte has struggled to defend PGs this year. Enes Kanter has also stepped up offensively, and he gets a solid matchup here as the Hornets will be undersized in their front court again if Zeller misses. Robert Covington and Derrick Jones Jr. have also been solid, but they aren't guys I'm going out of my way  to play here tonight. Carmelo Anthony has also been solid off the bench, but his pricing has caught up as McCollum has been out for awhile now. Overall this is a fantastic game to target.
5-star play: LaMelo Ball, Damian Lillard
4-star play: Terry Rozier, PJ Washington, Enes Kanter, Malik Monk
Deeper Value: Carmelo Anthony, Anfernee Simons
GPP Sleeper: Malik Monk, PJ Washington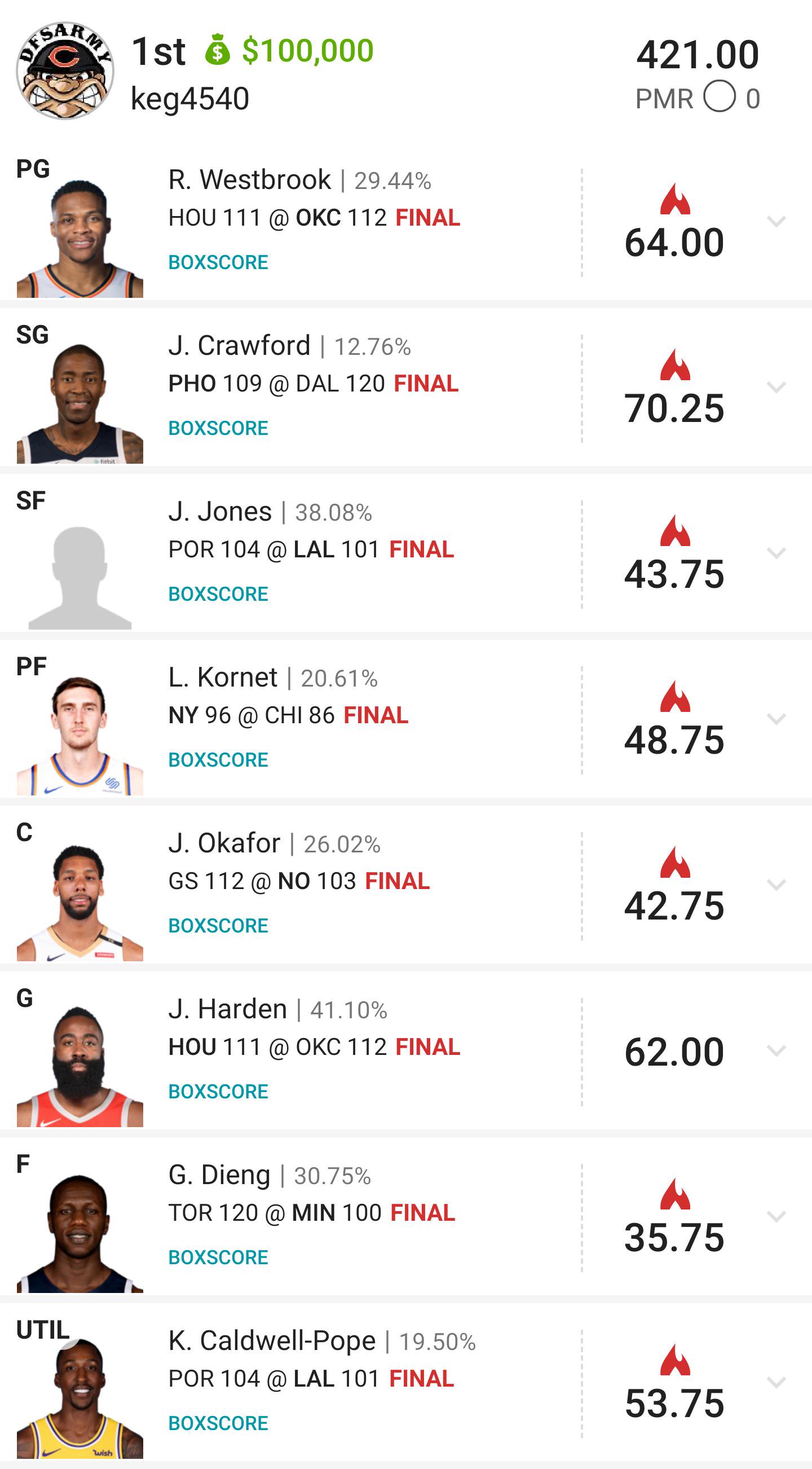 NBA Lock of the Day: 
 (LaMelo Ball FD: $7,900 DK: $8,700)
I like his price way more on FanDuel, but he's firmly a core play for me on both sites tonight. He does it all for this Hornets team and they've vastly improved with him in the starting lineup. Add in the fact that both Devonte' Graham and Gordon Hayward missed last night's game and with it being the 2nd half of a B2B I doubt they play tonight as well. With those guys off the court, LaMelo has a 26.4% usage rate and averages 1.3 FPPM in a game where he should see minutes in the high 30's, sign me up! As always, check back here for updates throughout the day, and as always, stay updated in our VIP Coaching forums as news breaks throughout the day!
The only thing you are missing at this point is the key to unlock the next level of your game.  Come inside and check us out!!  We have experts sharing their secrets and experience on a daily basis.  Combine that with the actual ability to ask them questions and get quick answers in return gives you a recipe for success that puts our army hats on leaderboards all over the face of DFS.
When you sign up, don't forget to use promo code MUTT18 to save 10% on your membership each and every month!
Editor's Note – However, if you are more interested in simply betting the games, NBA is full of crazy action.  And, our dynamic modeling over at SportsBetArmy adjusts in real time to help identify Vegas inaccuracies you can exploit.  Follow Ryan, Anthony, and Statsational for models and coaching advice that help you build any bankroll for any sport…