Full Court Press Breakdown for NBA DFS 3/2:
Welcome to another year of the DFS Army NBA Full Court Press! Members had a ton of success using the Full Court Press along with various articles and tools that DFS Army provides last season, so we are glad to be back with another year of the all-inclusive article. You have to start your research somewhere, and oftentimes going game by game and breaking down every matchup and its key players is the first step in our process. My name is Michael aka @MadnessDFS on Twitter, make sure to give me a follow as I'll occasionally make updates to the advice in the article. But, you'll mostly find me in our VIP coaching forums where I provide detailed lineup maneuvers and answer all lineup questions. With that said, let's get it started!
I want to give a quick shoutout to VIP Member "TheSoprano12" on their $100,000 win earlier this week!! Better go buy a Boban jersey after that one!
Memphis Grizzlies @ Washington Wizards
Vegas Total: 237.0
Vegas Spread: Mem -1.0
We'll kick this slate off with the Grizzlies, this is a really nice pace-up spot for them so expect to find yourself with pieces of this game. Ja Morant has a really intriguing price tag here, his production has been a bit volatile as of late, but I don't expect Westbrook to stay in front of him on defense. Jonas Valanciunas had a great matchup last time out and only scored 12 fantasy points as the Grizzlies went small against the Rockets. I don't have an issue going right back to him in another great matchup. Kyle Anderson is currently listed as questionable and isn't a guy I generally get to because of how boring a player he is, but you can make a case for tournaments if you really want to, I hate the price tag. Keep an eye on his availability as well, if he's out it will open up more minutes and usage for the rest of these wings. Then Brandon Clarke and Dillon Brooks are fine tournament options as well but my interest lies in Morant and Valanciunas from the Grizzlies. From the Wizards, Russell Westbrook seems to have found his footing as of late, he now has at least 50 DraftKings points in seven of his last eight games and is a guy I'll go right back to. I don't hate a little Morant/Westbrook stack either if you want to get crazy in tournaments. Bradley Beal could be that stack piece instead of Westbrook as well, he has at least 54 DraftKings points in two straight games. The rest of this team is going to be more tournament darts than anything, guys like Rui Hachimura and Davis Bertans would be my favorite flyers, but not anyone that I'm looking to prioritize.
5-star play: Ja Morant, Russell Westbrook, Bradley Beal
4-star play: Jonas Valanciunas, Kyle Anderson
Deeper Value: None
GPP Sleeper: Brandon Clarke, Dillon Brooks, Rui Hachimura, Davis Bertans
Los Angeles Clippers @ Boston Celtics
Vegas Total: 222.5
Vegas Spread: Lac -3.5
Starting with the Clippers, the obvious two you'll want from this team are Kawhi Leonard and Paul George. Kawhi is coming off a 45 fantasy point outing last time out against the Bucks, but his price has come down to under $9k on DraftKings. For some reason, I haven't gotten to this Clippers team that much this season but you can make a case at this price tag. George looked fine in that Bucks game as well and saw a price decrease, another guy that I'm completely fine with here. The rest of this team is a little bit harder to dissect, Lou Williams has been a shell of himself this season but has seen his minutes come up as of late. When George and Kawhi are both active, Lou still has a pretty healthy 25.5% usage rate and 1.01 fantasy point per minute, but that's due to him running that second unit. I still don't think I'll find myself with much of him here. Serge Ibaka looked great last game, the Clippers struggle with big men so at under $5k on DraftKings he makes sense as a value option. Then the combo of Nic Batum and Marcus Morris are GPP options, Batum has been more consistent but we know the upside on Morris if he starts knocking down some shots. From the Celtics, Jaylen Brown comes in as questionable here so keep an eye on the Breaking News Feed for updates, I'm going to operate under the assumption that he's in for this one. Jayson Tatum bounced back last game to go for 51 DraftKings points, I'll like him much more if Brown is out, it's not exactly a great matchup. I don't love the price tag on Brown, and returning from a knee injury always worries me, so I probably won't get to him all that much. Kemba Walker has at least 40 DraftKings points in two straight games but is now over $7k on DraftKings, I would want Brown out for him to be playable at that price tag. The rest of this team is more tournament options than anything, I don't mind Daniel Theis against a pretty weak Washington frontcourt, however.
5-star play: Kawhi Leonard, Paul George, Jayson Tatum
4-star play: Kemba Walker, Daniel Theis, Serge Ibaka
Deeper Value: None
GPP Sleeper: Jaylen Brown, Lou Williams, Marcus Morris, Kemba Walker
Atlanta Hawks @ Miami Heat
Vegas Total: 220.5
Vegas Spread: Mia -3.5
We just saw this matchup last time out, so we have something to work with here. Starting with the Hawks, Trae Young ended up playing last game after going into the game as questionable, he played 36 minutes on his way to 40 DraftKings points. It's not a great matchup, but he's proven to be matchup proof if you're looking for a high upside play. Clint Capela has looked good over his past two games, I don't like the price tag all that much, but I get wanting to play him in this spot. John Collins is always in play for GPPs due to the upside he can provide, as we saw last game where he went for 58 DraftKings points. He can be volatile going the other way as well though, so nothing I really want to be heavy on in cash. Cam Reddish is doubtful here so Kevin Huerter should see all the minutes he can handle and Danilo Gallinari should get his full minutes as well, I like them both for GPPs. Lastly, Tony Snell showed you why I never play him last game, I don't care if you told me he's going to play 40 minutes, he's the PJ Tucker of the Hawks. From the Heat, Jimmy Butler is listed as questionable here, so keep an eye on that Breaking News Feed for updates surrounding him. I'll operate under the assumption that he's out for the sake of this breakdown. Butler matches up really well here and is a guy I love getting to in this spot. The Hawks won't have an answer for him on defense, he's dropped at least 59 DraftKings points in back-to-back games. Bam Adebayo has been really consistent as of late and has at least 43 DraftKings points in eight straight games, and is a guy I'm good with getting to here. Kendrick Nunn was the point guard you wanted last time out, but with Dragic and Herro back I would want Butler out for him to be viable. Speaking of Dragic, he was kind of a dud last game but his price didn't move all that much so I don't mind going right back to the well on him. Tyler Herro played 29 minutes in that last game as well, I do like the price tag on him, if Butler is out he would become a great option. Then guys like Kelly Olynyk and Duncan Robinson are always in play for tournaments for me due to their ability to get a bucket.
5-star play: Trae Young, Jimmy Butler
4-star play: Clint Capela, John Collins, Bam Adebayo, Tyler Herro, Goran Dragic
Deeper Value: None
GPP Sleeper: John Collins, Kevin Huerter, Danilo Gallinari, Kelly Olynyk, Duncan Robinson
New York Knicks @ San Antonio Spurs
Vegas Total: 216.5
Vegas Spread: Sas -2.5
Starting with the Knicks,  Elfrid Payton comes into this one as doubtful, keep an eye on our Breaking News Feed for updates surrounding him but I'll operate under the assumption that he is out again. Derrick Rose got the start in his last two games, he looks to be a solid option playing at least 30 minutes in both those games and the Spurs have struggled with opposing point guards again this season. RJ Barrett has back-to-back games with at least 36 DraftKings points, with Elfrid out he's seeing a nice production boost and a guy I don't have an issue getting to in this matchup. Julius Randle has at least 50 DraftKings points in three of his last four games and the Spurs frontcourt isn't something that scares me. Then you can round this team off with GPP guys like Immanuel Quickley and Alec Burks. The Spurs will continue to be shorthanded here with Keldon Johnson, Derrick White, and Rudy Gay all out. LaMarcus Aldridge may as well be out as well, he saw just 15 minutes last game, but in a slower-paced game I would think those come up a bit here, I still don't have any interest in grandpa Aldridge in this one. DeMar DeRozan has been really good as of late going for 40+ fantasy points in three of his last four and played 42 minutes last night. This isn't as good of a matchup as they got last night, so more of a secondary option. Dejounte Murray has been really good as of late as well, his price came down a few hundred bucks on DraftKings and a guy I'm good with for tournaments. Then guys like Jakob Poeltl and Lonnie Walker are fine tournament plays as well, but their prices are beginning to climb.
5-star play: Derrick Rose, Julius Randle
4-star play: RJ Barrett, DeMar DeRozan, Dejounte Murray
Deeper Value: Trey Lyles
GPP Sleeper: Immanuel Quickley, Alec Burks, Jakob Poeltl, Lonnie Walker
Denver Nuggets @ Milwaukee Bucks
Vegas Total: 236.0
Vegas Spread: Milw -6.5
Starting with the Nuggets, Nikola Jokic had another huge night last night going for 77 DraftKings points. He scored 62 on the Bucks earlier this season and is a guy that's matchup proof each night, no issue going back to the well on him here. Jamal Murray is a guy that can beat the Bucks from deep here as they continue to struggle with guys getting wide-open three-pointers on them, that said, I hate this price tag on Murray. He's priced for a ceiling that he doesn't hit more often than not. I would rather go down to a guy like Michael Porter who has seen his production trend in the right direction and getting big minutes right now. Then Will Barton got hot against this Bucks team last time out, he's more of a mid-range scorer instead of that three-point threat you want against the Bucks, but he can obviously get the job done at a fair price tag. From the Bucks, Jrue Holiday returned last game after missing about three weeks due to Covid. He was on a minutes restriction and played just 18 minutes. I want that restriction lifted before I go back to him. Giannis Antetokounmpo has at least 60 DraftKings points in five straight games, it's a tough matchup against Jokic in the paint but he's playing huge minutes right now making him an elite raw play. Khris Middleton has been pretty solid as of late and at a similar price tag as Murray on the other side, I'll take the safety with Middleton unless you're in a deeper GPP. Donte DiVincenzo came back down to Earth last game going for 22.25 DraftKings points, I don't have an issue with this price tag and think he makes for a solid mid-range play on a shorter slate. Bobby Portis moved back to the bench last game but still got 20 minutes, I would expect something similar here. Brook Lopez may see a few extra minutes to help defend Jokic on the other end, the only issue with that is he's too slow to defend Jokic on the perimeter so maybe they go small and throw Giannis on Jokic. If that's the case then Bobby will be the guy you want here, so build a story on how you think this one goes and run with it.
5-star play: Nikola Jokic, Giannis Antetokounmpo
4-star play: Michael Porter Jr., Will Barton, Khris Middleton
Deeper Value: None
GPP Sleeper: Jamal Murray, Donte DiVincenzo, Bobby Portis, Brook Lopez
Our NBA Domination Station lineup optimizer is Powered by DFS Army proprietary projections. The Domination Station will help you create 150 of the highest projected lineups in a matter of minutes. With features that allow you to Like 
 Love 
 or Dislike 
 a player, you can create a fully unique pool of players to generate your lineups from every day. Combine the power of the Domination Station with our VIP Only Articles and the NBA Research Station to really take your game to the next level.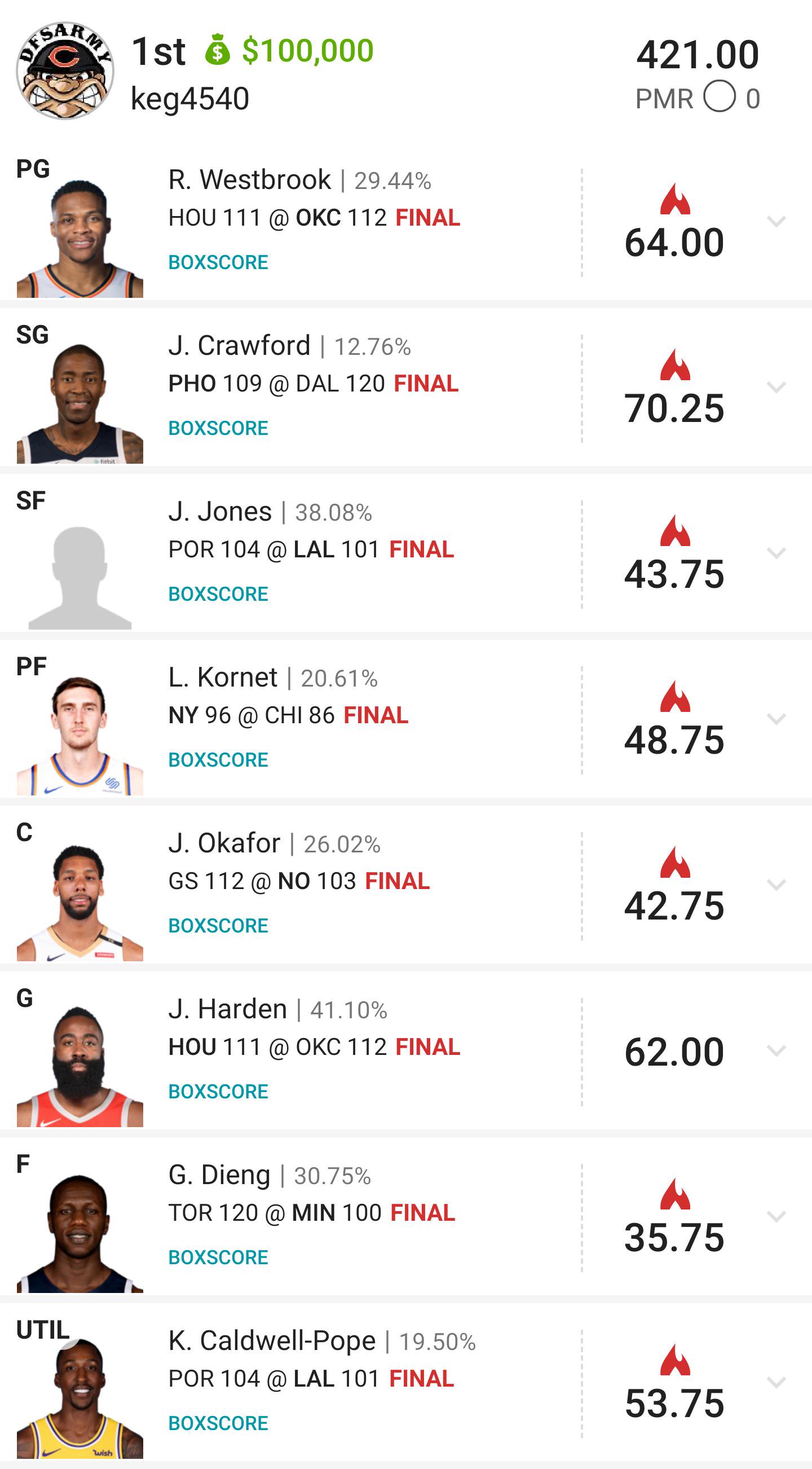 Phoenix Suns @ Los Angeles Lakers
Vegas Total: 214.5
Vegas Spread: Lal -1.5
We round out the slate with probably the worst game on the slate from a DFS perspective. Starting with the Suns, I never love getting to this team when they're at full health so guys like Devin Booker, Chris Paul, and DeAndre Ayton are more GPP options than anything. My favorites of these three would be Chris Paul and DeAndre Ayton. We know Paul comes to play when he has LeBron on the other side of the court. Ayton gets a tough matchup, but they'll need his size here. From the Lakers, LeBron James saw his minutes come down last game due to a blowout, but this one should stay close so he should see his usual minutes. The Suns have been good on defense so it's not my favorite spot, but he's a fine option here. Kyle Kuzma should continue to produce nicely and the price has come down on him, I like him as a secondary option while Davis is still out. Then Montrezl Harrell is the tournament pivot off him. He can be volatile but when he's out there he produces. Lastly, Dennis Schroder makes sense as a GPP flyer if you want a piece of the hammer game, but the rest of this team is pretty meh for me.
5-star play: LeBron James
4-star play: Chris Paul, DeAndre Ayton, Kyle Kuzma, Dennis Schroder
Deeper Value: None
GPP Sleeper: Devin Booker, Montrezl Harrell
NBA Lock of the Day: Ja Morant (DK – $7.0k; FD – $7.1k)
The cover boy! I love getting to Ja Morant in this matchup with the Wizards. Washington is the fastest team in the league when Westbrook is on the court and they don't play any sort of defense. Morant's price has come down as well, so the stars align for him to have a really nice day here. The Research Station has him projected to be the highest point per dollar scorer on the slate at 5.85x his DraftKings price tag. There's a good chance he ends up in my Core Four tonight, for the rest of that core go check out our Cheat Sheets/Coaches Notes, as we know news tends to pop up out of nowhere this season, so these notes will give you a firm look at the slate as we get closer to lock. These notes include a Core, player ranks, and tiers notes, so come check them out! Tweet me (@MadnessDFS) your lock predictions and if your player gets over 5x tonight I'll give you a shoutout on Twitter, let's have some fun with this!
The only thing you are missing at this point is the key to unlock the next level of your game.  Come inside and check us out!!  We have experts sharing their secrets and experience on a daily basis.  Combine that with the actual ability to ask them questions and get quick answers in return gives you a recipe for success that puts our army hats on leaderboards all over the face of DFS.
When you sign up, don't forget to use promo code MADNESS to save 10% on your membership each and every month!
Editor's Note – However, if you are more interested in simply betting the games, NBA is full of crazy action.  And, our dynamic modeling over at SportsBetArmy adjusts in real time to help identify Vegas inaccuracies you can exploit.  Follow Ryan, Anthony, and Statsational for models and coaching advice that help you build any bankroll for any sport…