Full Court Press Breakdown for NBA DFS 1/24:
Welcome to another year of the DFS Army NBA Full Court Press! Members had a ton of success using the Full Court Press along with various articles and tools that DFS Army provides last season, so we are glad to be back with another year of the all-inclusive article. You have to start your research somewhere, and oftentimes going game by game and breaking down every matchup and its key players is the first step in our process. My name is Michael aka @MadnessDFS on Twitter, make sure to give me a follow as I'll occasionally make updates to the advice in the article. But, you'll mostly find me in our VIP coaching forums where I provide detailed lineup maneuvers and answer all lineup questions. With that said, let's get it started!
The winning has come early and often this season! Congrats to VIP Member – "Fatherofthree" on his $150k NBA win!! Adding to the list of winners already this season!
Early Slate:
Toronto Raptors @ Indiana Pacers
Vegas Total: 219
Vegas Spread: Ind -1.5
First off, happy Championship Sunday! Many of you know I'm from Green Bay, so it's a big day around here – Go Pack Go! That said, let's get to some hoops! Starting with the Raptors, Kyle Lowry missed the last game which opened up some usage and opportunities for Norman Powell to slide into the starting lineup. Lowry is currently questionable, if he sits we can go right back to Powell here who played 32 minutes on his way to 32 DraftKings points. Fred VanVleet would become an awesome play as well, he shot poorly last game but would handle a lot of the usage in this offense and is going to play a ton of minutes regardless. Pascal Siakam finally had a decent game going for 42 DraftKings points, but he just feels overpriced here in a tougher matchup. That said, on the early short slate, you can make a case for him in tournaments. Lastly, Chris Boucher has seen his minutes come down over the past two games in a difficult matchup against Miami, I don't know if that's a trend we'll begin to see, but this guy can ball when he gets the opportunity. From the Pacers, we get Domantas Sabonis over $10k on DraftKings for the first time this season. He's playing absolutely massive minutes and has at least 50 DraftKings points in three of his last five games, he's a great play here. Malcolm Brogdon's production has come down a bit but the minutes are still going to be there and the floor is always nice on him even at an elevated price tag. Myles Turner has looked really good as of late, racking up blocks like they're going out of style. The price tag is up but so are the minutes, he has at least 40 minutes in two of his last three. Lastly, Doug McDermott and Justin Holiday are fine ancillary pieces here.
5-star play: Norman Powell (If Lowry is out), Fred VanVleet, Domantas Sabonis, Malcolm Brogdon
4-star play: Pascal Siakam, Myles Turner
Deeper Value: None
GPP Sleeper: Chris Boucher, Doug McDermott, Justin Holiday
Oklahoma City Thunder @ Los Angeles Clippers
Vegas Total: 222.5
Vegas Spread: Lac -13.0
We saw this matchup a few games ago so we have something to work off of here. Starting with the Thunder, Shai Gilgeous-Alexander dropped 49.25 DraftKings points in this matchup last time out, but they were able to keep it relatively close so he was forced into 39 minutes. He's a fine option here especially on a short slate, but the matchup isn't a great one. Al Horford will be out again here which means Isaiah Roby should continue to start, he scored just 18 DraftKings points in this matchup last time out, the Clippers have been better against opposing big men this season with Ibaka now on the squad, but I still don't mind the price on him here. Lu Dort is all over the place this season but showing a nice ceiling, so you can play him in tournaments, just know his floor is like 10 fantasy points. Darius Bazley has been pretty disappointing, I thought he would really shine with Horford out but he's just not producing. That said, he does have a nice ceiling when he puts it all together and has a nice price tag here. Lastly, George Hill and Mike Muscala are fine tournament options if you need some roster fillers. From the Clippers, both Kawhi Leonard and Paul George are great options here and should do whatever they please against a terrible defense. Serge Ibaka has been too volatile for me to really love especially at this price tag, that said it's a nice matchup so he's in play for GPPs. The only other interest I have in this team would be the wing combination of Nic Batum and Marcus Morris, I'm still waiting for them to throw Morris into his usual 30-35 minute role, but they just haven't yet which is allowing Batum to soak up more run as well. If you really want to get wacky you can throw Lou Williams into lineups on a short slate but his minutes are all over the place.
5-star play: Kawhi Leonard, Paul George
4-star play: Isaiah Roby, Shai Gilgeous-Alexander, Serge Ibaka
Deeper Value: Mike Muscala
GPP Sleeper: Darius Bazley, George Hill, Mike Muscala, Nic Batum, Marcus Morris, Lou Williams, Ivica Zubac
Main Slate:
Cleveland Cavaliers @ Boston Celtics
Vegas Total: 214.5
Vegas Spread: Bos -6.0
Starting with the Cavaliers, Andre Drummond was able to put up 50 DraftKings points in just 27 minutes last time out. This is a good matchup for big men as the Celtics have issues with them, but I just can't justify paying this price tag for a guy that may not get to 30 minutes. Collin Sexton is on a tear right now and playing all the minutes he can handle, this is a really nice price tag for him as well, I'm more than okay with getting some Sexton here. Larry Nance always seems to be priced right, I'm pretty meh on him with no real lean on loving or hating him in this spot. Cedi Osman is a fine option as well but really needs to get big minutes for him to get you there. Jarrett Allen saw his minutes come down to 19 minutes last game but seems as if the Cavs are just going to play the hot hand in this frontcourt, so I'm not sure I want all that much of him either. Lastly, Darius Garland returned last game to play 22 minutes, he's missed about three weeks now so he'll likely be eased back in, I don't love him until he's back up to his full minutes. From the Celtics, Jayson Tatum will continue to be out here which means we can go back to these guys on the Celtics in a good matchup against the Cavs. Jaylen Brown finally put up that big game we've been waiting for with Tatum out last time out where he scored 62 DraftKings points. I like going right back to the well on him. Kemba Walker has looked great since returning from injury and saw 29 minutes last time out, I would imagine he gets up over the 30-minute mark here and is a really nice option with Tatum still out. I never really get a whole lot of Marcus Smart but he has at least 37 DraftKings points in two straight games, he's a fine tournament option. Then we close this team out with the frontcourt, which is a disaster right now. Daniel Theis and Tristan Thompson haven't been great, I wish they'd just run Robert Williams out there 30 minutes so we can lock him up, but that's me speaking from a DFS perspective, they won't do that lol. Nothing too interesting for me here.
5-star play: Collin Sexton, Jaylen Brown, Kemba Walker
4-star play: Andre Drummond, Larry Nance, Marcus Smart
Deeper Value: None
GPP Sleeper: Andre Drummond, Jarrett Allen
Charlotte Hornets @ Orlando Magic
Vegas Total: 214.0
Vegas Spread: Orl -1.0
Starting with the Hornets, Gordon Hayward looked great last time out going for a 50 burger. His price came down on DraftKings so I think you can go right back to him on a smaller slate. LaMelo Ball saw just 17 minutes last game and has seen his minutes trend in the wrong direction as of late. He's too expensive right now for me to want to get to him. I would rather target these other guards who are much cheaper than him and getting better minutes in Devonte' Graham and Terry Rozier. PJ Washington has at least 40 DraftKings points in three of his last four games and is a fine tournament option, I can never seem to get him right. Lastly, Cody Zeller returned last game to play just 11 minutes, he's not in play for me until he starts getting those minutes back, he's been out for about a month now. From Orlando, this is an elite spot for Nikola Vucevic, the Hornets have struggled with big men all season long and I love the price tag on him. Aaron Gordon is on a tear right now going for at least 40 DraftKings points in three straight and playing huge minutes, I love the price tag on him. Evan Fournier got 36 minutes last game on his way to 46 DraftKings points, I'm not going to chase those points here but he's in play for sure. Terrence Ross hasn't been as productive as he was earlier this season but he's always in play for GPPs due to his ability to put up points in a hurry. Outside of these guys, there isn't much that interests me from the Magic.
5-star play: Nikola Vucevic, Aaron Gordon
4-star play: Terry Rozier, Devonte' Graham, PJ Washington, Gordon Hayward
Deeper Value: None
GPP Sleeper: LaMelo Ball, PJ Washington, Evan Fournier, Terrence Ross
Atlanta Hawks @ Milwaukee Bucks
Vegas Total: 230
Vegas Spread: Mil -8.5
Starting with the Hawks, Trae Young is questionable at the moment but I'll operate under the assumption that he plays. If he gets ruled out, come jump in our VIP Coaching forums for updates on who is impacted the most. I like the price tag on him and the Bucks give up three-pointers like they're going out of business which suits him well. Clint Capela is on a different planet right now, he has at least 54 DraftKings points in four straight games, I won't talk you off of riding the hot streak again here. I love targeting John Collins in fast pace matchups and they'll need his size here, he's an elite tournament option. With Danilo Gallinari and Rajon Rondo back it will hurt the minutes of guys like Kevin Huerter and Cam Reddish but if they're able to find some decent run I love the spot for them, they'll be open for three's all day long. From the Bucks, Giannis Antetokounmpo feels too cheap for this spot. The Hawks don't play much of any defense and is one of the better raw options on the slate. Khris Middleton is one of the more consistent producers relative to his price in the league, I like getting to him in this price range. Jrue Holiday had a big game last time out, if he's able to get some blocks/steals to go along with one of these high scoring nights he'll be in for a massive night so I like getting to him in tournaments. Brook Lopez's minutes have come up and held steady since the beginning of the season, I like him here as well. Lastly, Donte DiVincenzo and Bobby Portis are fine GPP options if you're looking for more pieces in this game that won't cost you a fortune.
5-star play: Trae Young, Giannis Antetokounmpo, Clint Capela
4-star play: John Collins, Kevin Huerter, Khris Middleton, Jrue Holiday, Brook Lopez
Deeper Value: Bobby Portis
GPP Sleeper: DeAndre Hunter, Cam Reddish, Bobby Portis, Donte DiVincenzo
Our NBA Domination Station lineup optimizer is Powered by DFS Army proprietary projections. The Domination Station will help you create 150 of the highest projected lineups in a matter of minutes. With features that allow you to Like 
 Love 
 or Dislike 
 a player, you can create a fully unique pool of players to generate your lineups from every day. Combine the power of the Domination Station with our VIP Only Articles and the NBA Research Station to really take your game to the next level.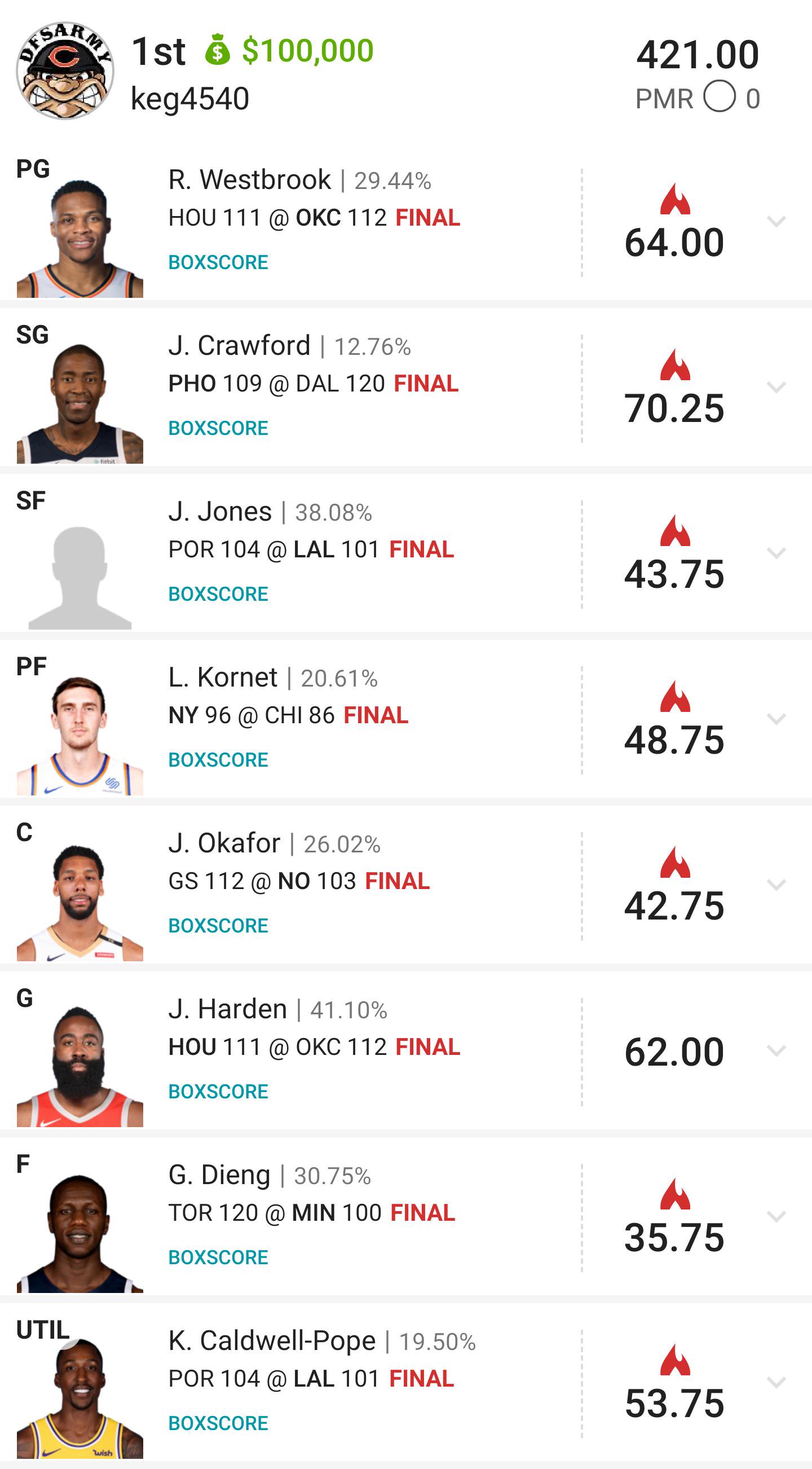 Washington Wizards @ San Antonio Spurs
Vegas Total: 231.5
Vegas Spread: Sas -7.0
Starting with the Wizards, this is their first game in a while due to being postponed because of Covid. They're a bit of a mess as well, Russell Westbrook comes in as questionable while Davis Bertans, Rui Hachimura, Ish Smith, Deni Avdija, and Mo Wagner are all out. We'll assume Westbrook is in here, but again, keep an eye on the VIP Coaching forums for updates throughout the day. With how shorthanded this team is in the frontcourt, Robin Lopez should be forced into pretty big minutes along with Alex Len who was just signed this week, both make a lot of sense for tournaments at the very least. Bradley Beal comes into this one scoring at least 50 DraftKings points in four straight, he's a very solid option here. From the Spurs, DeMar DeRozan should do what he wants here, I like targeting him against teams with little rim protection, and well… that's the Wizards for ya. Dejounte Murray is currently questionable so keep an eye on the news for him, he's a solid play as well if he plays. I hope the Spurs trade LaMarcus Aldrige and Rudy Gay at the deadline and just hand the keys to guys like Keldon Johnson and Lonnie Walker. Aldridge is a fine option but I'll take the upside on Johnson in this spot.
5-star play: Bradley Beal, Russell Westbrook, DeMar DeRozan
4-star play: Robin Lopez, Dejounte Murray, Keldon Johnson, LaMarcus Aldridge
Deeper Value: Alex Len, Jerome Robinson
GPP Sleeper: Alex Len, Lonnie Walker. Jerome Robinson
New York Knicks @ Portland Trailblazers
Vegas Total: 213.5
Vegas Spread: Por -4.0
Starting with the Knicks, this is a big pace up spot for them, but most games are… they're one of the slowest teams in the league. This is a really nice spot for Julius Randle, the Blazers are down Nurkic in the frontcourt who was one of their best defenders. Randle should thrive in this one. I hate paying this price tag for RJ Barrett but it's a nice spot for him as well, he's getting all the minutes he can handle right now. I love that Mitchell Robinson is getting consistent minutes this season, this is a really nice spot for him, I love him in GPPs. He's less of a cash play but I'll be over the field in tournaments. Elfrid Payton had a down game last time out but he's been getting solid minutes regardless and we know he has triple-double upside any time he's out there. From the Blazers, I'll go right back to Damian Lillard here even in a pace down spot. With CJ McCollum and Jusuf Nurkic out he'll get all the usage in this offense. Enes Kanter has seen his price come up, but for good reason, he's in play again here while his minutes are secured. Outside of these guys, the only other guy I'll have interest in is Rodney Hood if he gets the start for McCollum again. He scored 28 DraftKings points last time out in 25 minutes and is just too cheap for his current role.
5-star play: Julius Randle, Damian Lillard
4-star play: RJ Barrett, Mitchell Robinson, Elfrid Payton, Enes Kanter, Rodney Hood
Deeper Value: Rodney Hood
GPP Sleeper: Alec Burks, Mitchell Robinson, Robert Covington, Gart Trent Jr., Carmelo Anthony
With it being just a three-game slate I'm going to keep the lock of the day behind the paywall, so come check out the cheat sheets and core plays! Tweet me (@MadnessDFS) your lock predictions and if your player gets over 5x tonight I'll give you a shoutout on Twitter, let's have some fun with this!
The only thing you are missing at this point is the key to unlock the next level of your game.  Come inside and check us out!!  We have experts sharing their secrets and experience on a daily basis.  Combine that with the actual ability to ask them questions and get quick answers in return gives you a recipe for success that puts our army hats on leaderboards all over the face of DFS.
When you sign up, don't forget to use promo code MADNESS to save 10% on your membership each and every month!
Editor's Note – However, if you are more interested in simply betting the games, NBA is full of crazy action.  And, our dynamic modeling over at SportsBetArmy adjusts in real time to help identify Vegas inaccuracies you can exploit.  Follow Ryan, Anthony, and Statsational for models and coaching advice that help you build any bankroll for any sport…