Full Court Press Breakdown for NBA DFS 1/23:
Welcome to another year of the DFS Army NBA Full Court Press! Members had a ton of success using the Full Court Press along with various articles and tools that DFS Army provides last season, so we are glad to be back with another year of the all-inclusive article. You have to start your research somewhere, and oftentimes going game by game and breaking down every matchup and its key players is the first step in our process. My name is Michael aka @MadnessDFS on Twitter, make sure to give me a follow as I'll occasionally make updates to the advice in the article. But, you'll mostly find me in our VIP coaching forums where I provide detailed lineup maneuvers and answer all lineup questions. With that said, let's get it started!
The winning has come early and often this season! Congrats to VIP Member – "Fatherofthree" on his $150k NBA win!! Adding to the list of winners already this season!
Miami Heat @ Brooklyn Nets
Vegas Total: 230
Vegas Spread: Bkn -8.5
We'll kick this nice Saturday slate off with the Miami Heat, Tyler Herro has been ruled out and I would consider Jimmy Butler to be on the doubtful side of questionable, so we should be able to operate as we have been over the past few games with them. Bam Adebayo is coming off a down game last night against the Raptors but I'm willing to overlook it. He had at least 40 DraftKings points in the previous three and at least 50 in two of those. With Jarrett Allen out of town, the Nets are going to have trouble guarding opposing big men. Goran Dragic continues to see an increase in price with Butler and Herro out, I don't love the price here but this is a nice pace up spot for them. I would prefer just to go down to Kendrick Nunn who only saw a price increase of $200 and has dropped at least 40 DraftKings points in his past two games. In a pace up spot, I love the price on him here. Lastly, you can make a case for Kelly Olynyk and Duncan Robinson in tournaments. From the Nets, I would expect Kevin Durant to be back tonight after sitting last night, meaning we'll get all three of Kyrie, Harden, and Durant on the court. I don't really love any of them at this price tag, I have a feeling I'll only get to these guys very heavy when one of them is out or they see some price decreases. It's just going to be so hard to predict which one of them is going to have the big night each time out. Other than the big three, I don't really have a whole lot of interest in the rest of this team either. Joe Harris, DeAndre Jordan, and Jeff Green are all in play for GPPs if you need a filler spot. I just don't see myself getting much of this team.
5-star play: Kevin Durant, James Harden
4-star play: Kyrie Irving, Kendrick Nunn, Goran Dragic
Deeper Value: None
GPP Sleeper: Kyrie Irving, DeAndre Jordan, Jeff Green, Joe Harris
Philadelphia 76ers @ Detroit Pistons
Vegas Total: 218
Vegas Spread: Phi -7.5
Starting with the Sixers, Joel Embiid has at least 58 DraftKings points in two straight games and should be able to do whatever he wants against a bad Pistons frontcourt. The price on him really isn't all that bad either, I like him here. Ben Simmons has finally seen his price come down to a more playable range at $8.2k on DraftKings. He's going to see around 35 minutes as long as they don't seriously blow them out, he's a triple-double threat every time he steps on the court. Tobias Harris has at least 30 DraftKings points in three straight and has played at least 40 minutes in back-to-back games, he's a solid secondary option in all formats. Seth Curry returned last night to play 27 minutes, I would expect he's without minutes restriction here, but he needs to shoot well to get you there since he's pretty scoring dependent. Lastly, Curry being back gets me off Shake Milton on a big slate so you can avoid him here. From the Pistons, Jerami Grant continues to be the model of consistency. He shot 4-15 last game and still found a way to get to 40 fantasy points. If you're getting to the end of your roster and have the money for him he's a great option that is going to produce. Blake Griffin, on the other hand, is the complete opposite. He's going to be volatile and I'm never able to get him right… but you can get to him in tournaments if you're feeling frisky. They will likely need Mason Plumlee's size in this one so I like the chances of him getting some full run. We've seen him get those extended minutes against teams with solidified bigs like Atlanta, Miami, Phoenix, and Utah. Lastly, Derrick Rose will eat up the usage in the second unit so I don't mind him in GPPs either.
5-star play: Joel Embiid, Jerami Grant
4-star play: Ben Simmons, Tobias Harris, Blake Griffin, Mason Plumlee
Deeper Value: None
GPP Sleeper: Seth Curry, Blake Griffin, Derrick Rose
New Orleans Pelicans @ Minnesota Timberwolves
Vegas Total: 221
Vegas Spread: Nop -8.0
Starting with the Pelicans, Brandon Ingram has just been down from a production standpoint as of late. He has scored 30 DraftKings points in three straight games. That being said, this is a nice matchup for the Pelicans in this one so I don't mind taking a GPP stab at him. I would much rather take the savings on Zion Williamson however, with Karl-Anthony Towns out for the Wolves, this frontcourt isn't so hot. Zion should be able to do what he pleases down low, and his rebound equity will go up with Towns not taking up so much space down there. The same can be said for Steven Adams, he should grab all the rebounds in this one if you're looking for a mid-range center option. Lonzo Ball saw his minutes go up to 27 last game but still looks pretty rusty out there. I do expect his minutes to come back up and maybe get to around 32-35 in this one which would put him in a position to be a bargain at his DraftKings price tag. Eric Bledsoe is going to be a tournament play here, as usual, if he's playing well he'll see good minutes but he has a knack of running himself off the court. From the Timberwolves, D'Angelo Russell is coming off a real stinker last night going for just 17 DraftKings points. I don't love the price tag on him here, he needs almost 45 DraftKings points just for you to feel comfortable with him. Malik Beasley isn't a guy I get to all that much, he always feels priced pretty correctly, so he's in play for GPPs but not someone I'm prioritizing. Both Naz Reid and Jarred Vanderbilt saw over 25 minutes last night, I wish they would just stick to one of these guys so we can play them. If I'm picking between the two I'll take the savings on Vanderbilt, he has at least 27 DraftKings points in two of his last three games. Reid is still in play for tournaments, however.
5-star play: Zion Williamson
4-star play: Brandon Ingram, Lonzo Ball, Steven Adams, D'Angelo Russell, Malik Beasley, Jarred Vanderbilt
Deeper Value: None
GPP Sleeper: Brandon Ingram, Eric Bledsoe, Naz Reid, D'Angelo Russell
Los Angeles Lakers @ Chicago Bulls
Vegas Total: 227.0
Vegas Spread: Lal -9.0
Starting with the Lakers, LeBron James is questionable… tell me if you've heard that before, while Anthony Davis is listed as probable. I'll operate under the assumption that they're both playing here. They're both still underpriced at under $9.5k on DraftKings and coming off solid games against the Bucks. Both should be able to do whatever they please against a bad Bulls defense. Other than them, I never love getting to these ancillary guys on the Lakers just due to the usage that Davis and LeBron command but you can make a case for Montrezl Harrell and Dennis Schroder in tournaments. From the Bulls, Zach LaVine has at least 50 DraftKings points in five of his last six games and is under $9k on DraftKings. It's a tough matchup against a good Lakers defense but I'm still good with going to him in tournaments at the very least. It sounds like Wendell Carter Jr. is doubtful for this one. We saw Daniel Gafford get the start last night and play 19 minutes on his way to 19 DraftKings points. If he starts again, he's an awesome value option on DraftKings at just $3.2k. Coby White is more of a GPP option due to his volatility as of late, but they'll need his scoring if they have any interest in keeping this one close. Lauri Markkanen didn't have the game I was hoping for last night in a great matchup, he just didn't grab any rebounds. I'm okay going right back to him here even in a tough matchup. Lastly, you could see some more Thad Young tonight, he has at least 25 minutes in two straight and with Carter out, he could slide in and help grab some big man minutes at a cheap price tag.
5-star play: LeBron James, Anthony Davis, Zach LaVine
4-star play: Dennis Schroder, Montrezl Harrell, Lauri Markkanen, Coby White, Daniel Gafford
Deeper Value: Daniel Gafford
GPP Sleeper: Montrezl Harrell, Dennis Schroder, Thad Young, Coby White, Otto Porter
Houston Rockets @ Dallas Mavericks
Vegas Total: 219.0
Vegas Spread: Dal -9.5
Starting with the Rockets, it sounds like Christian Wood will be out again here meaning we can go right back to the DeMarcus Cousins well. He started and played 33 minutes last night and should be one of the first guys in your lineup again tonight at just $5.1k. I was all over Victor Oladipo last night and he just had a really weird game, he shot poorly and got in early foul trouble, if people are going to be off him here I'll go right back to the well in a nice matchup. He still has a 33% usage rate with the Rockets while John Wall is still off the court. Eric Gordon and Jae'sean Tate are in play as well and should get nice run in this one. Tate racked up six blocks/steals last night so I wouldn't expect that again, but still a nice spot for him. From the Mavericks, Luka Doncic continues to see around 35 minutes per game and producing nicely in those minutes. He had five fouls last game and was still able to put up 66 DraftKings points, he's an elite option here. Kristaps Porzingis is off his minute's restriction and gets a great matchup here. He's going to shoot a ton and if he can grab the rebounds he could be looking at a big double-double in this one. Outside of these two I really don't have much interest in the rest of this team, they're pretty similar to the Lakers in that sense. I suppose you can make a case for Tim Hardaway Jr. and Trey Burke but I just won't get there on a big slate. Jalen Brunson has had back-to-back nice games but his price has come up so not really a guy I'm getting to
5-star play: DeMarcus Cousins, Victor Oladipo, Luka Doncic, Kristaps Porzingis
4-star play: Eric Gordon, Jae'sean Tate
Deeper Value: None
GPP Sleeper: Eric Gordon, Jae'sean Tate, Tim Hardaway Jr., Trey Burke
Our NBA Domination Station lineup optimizer is Powered by DFS Army proprietary projections. The Domination Station will help you create 150 of the highest projected lineups in a matter of minutes. With features that allow you to Like 
 Love 
 or Dislike 
 a player, you can create a fully unique pool of players to generate your lineups from every day. Combine the power of the Domination Station with our VIP Only Articles and the NBA Research Station to really take your game to the next level.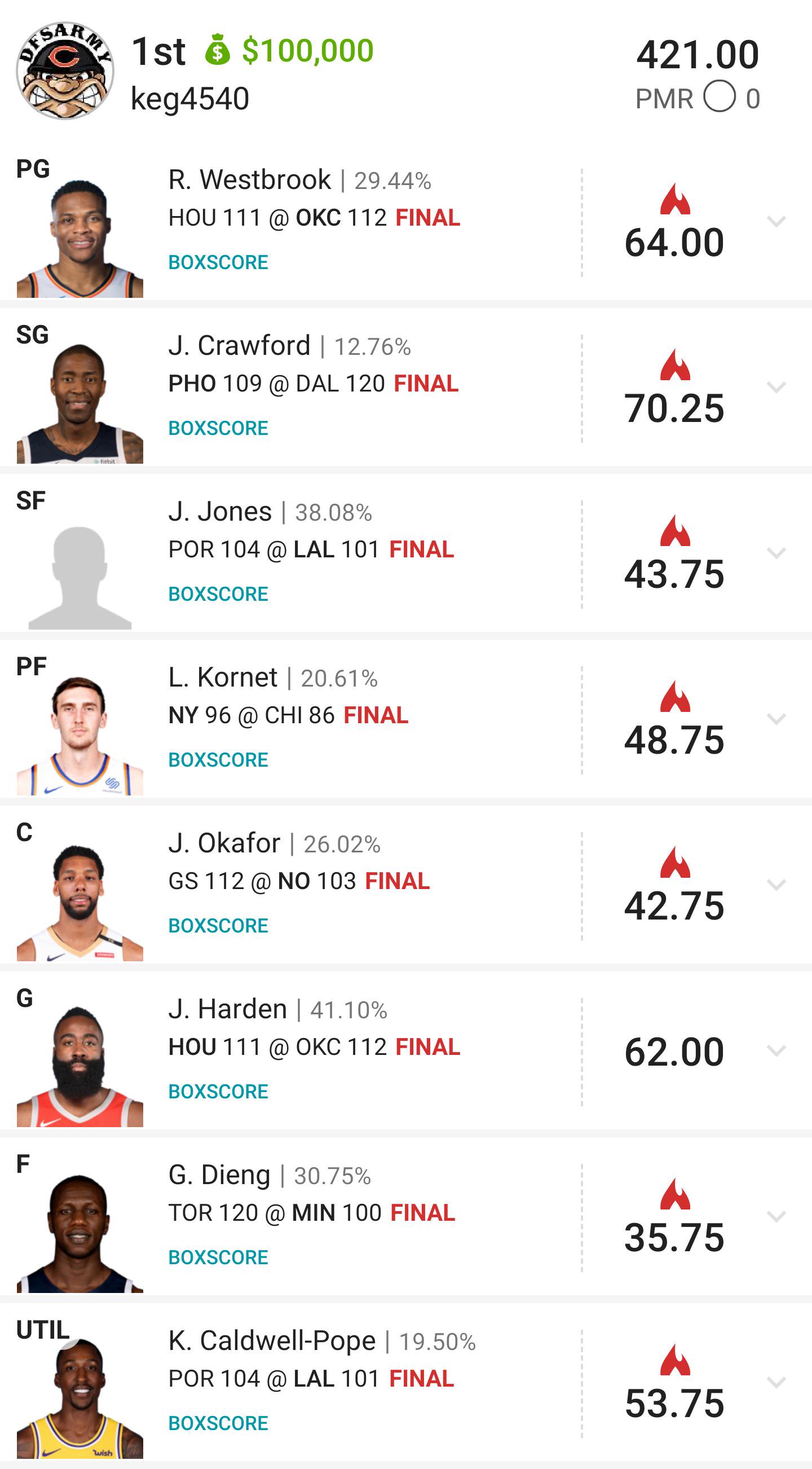 Denver Nuggets @ Phoenix Suns
Vegas Total: 217.5
Vegas Spread: Den -2.5
Starting with the Nuggets, I don't see why Nikola Jokic is under $11k on DraftKings but I'll take it! DeAndre Ayton is pretty terrible defensively and Jokic is having an MVP caliber season right now. He has at least 60 DraftKings points in three of his last four games and is a guy I love in this one. Jamal Murray seems to have found his footing, he has at least 40 DraftKings points in three of his last four games and is priced really nice at under $7k on DraftKings. Michael Porter Jr. returned last night to play 20 minutes, I assume they'll ease him back after he missed nearly a month, but he'll take minutes away from these other wings that we've been playing. Will Barton is a fine tournament option but outside of these guys, I don't see much else I'll get to in this one. From the Suns, it sounds like Devin Booker is closer to doubtful than questionable in this one. Here is how the Suns grade out with him off the court this season:
Chris Paul – 22.7% usage rate; 1.2 fpm
DeAndre Ayton – 23.1% usage rate; 1.33 fpm
Cam Johnson – 22.5% usage rate; 1.06 fpm
These are guys I'll look to get to here, they'll see additional opportunity with Booker off the court and really aren't priced for it. Ayton was able to put up 48 DraftKings points in this matchup last night, they'll need his size out there with Jokic, and is in a good spot considering the matchup.
5-star play: Nikola Jokic, DeAndre Ayton
4-star play: Jamal Murray, Chris Paul, Mikal Bridges
Deeper Value: None
GPP Sleeper: Will Barton, Michael Porter Jr., Cam Johnson
Golden State Warriors @ Utah Jazz
Vegas Total: 228
Vegas Spread: Utah -6.5
Starting with the Warriors, this is a tough spot for Steph Curry but he's always a guy I will find exposure for if he's going to be under-owned. He can shoot his way to a 70 point fantasy outing real quick. Andrew Wiggings has been solid over the past few games but feels like he's priced pretty accurate. The same can be said for Kelly Oubre who has actually seen his price come up a bit lately, I just don't love the spot for him, and needs to shoot well to really get you there at this price tag. Draymond Green got ejected last game for yelling at his own teammate, so we can ignore those 17 minutes. He's a guy I really don't get to, I prefer getting to guys with big usage rates and that is not his game. He's scored double-digit real-life points just once this season, you're banking on him racking up peripheral stats, which is what he does, but I just don't like it. Lastly, James Wiseman has at least 29 DraftKings points in three of his last four games and they'll need his size in this one. If he can stay out of foul trouble I like this price tag on him, but that's a big if with Gobert on the other end. From the Jazz, Donovan Mitchell is coming off a 55 point fantasy night last time out, I like this price tag much more than the mid $8k range he was in last week, so he's in play for tournaments if you want to go off the board and stack this game up. The price on Rudy Gobert is really intriguing as well, he should be able to take advantage of Wiseman down low and is in a really nice spot if you're looking for another cash game center to play with Cousins. Mike Conley is a fine secondary option I have no real lean on him in this one at his price tag. Lastly, Jordan Clarkson and Bojan Bogdanovic are solid tournament options as scoring threats in this one.
5-star play: Steph Curry, Rudy Gobert
4-star play: Donovan Mitchell, James Wiseman, Mike Conley
Deeper Value: None
GPP Sleeper: Andrew Wiggins, Kelly Oubre, Draymond Green, Jordan Clarkson, Bojan Bogdanovic
NBA Lock of the Day: DeMarcus Cousins (DK – $5.1k; $4.9k)
We locked in DeMarcus Cousins last night, let's do it again tonight! He got the start for Christian Wood who is "very doubtful" again tonight. Cousins got 33 minutes last night on his way to 36.25 DraftKings points all while scoring just five real points. With Wood and Wall off the court this season Cousins has a 25.5% usage rate and 1.24 fantasy points per minute. He's just not priced up enough for the opportunity he'll have with these guys off the court. Right now the Domination Station below, has him projected to be the highest point per dollar play of the night at 7.66x his DraftKings price tag, I'll be all over him again tonight. Tweet me (@MadnessDFS) your lock predictions and if your player gets over 5x tonight I'll give you a shoutout on Twitter, let's have some fun with this!
The only thing you are missing at this point is the key to unlock the next level of your game.  Come inside and check us out!!  We have experts sharing their secrets and experience on a daily basis.  Combine that with the actual ability to ask them questions and get quick answers in return gives you a recipe for success that puts our army hats on leaderboards all over the face of DFS.
When you sign up, don't forget to use promo code MADNESS to save 10% on your membership each and every month!
Editor's Note – However, if you are more interested in simply betting the games, NBA is full of crazy action.  And, our dynamic modeling over at SportsBetArmy adjusts in real time to help identify Vegas inaccuracies you can exploit.  Follow Ryan, Anthony, and Statsational for models and coaching advice that help you build any bankroll for any sport…