Full Court Press Breakdown for NBA DFS 9/1:
Boston Celtics @ Toronto Raptors
Vegas Total: 218.0
Vegas Spread: Tor -1.5
We kick off September 1st with…. playoff basketball? We'll get started with the Celtics, Jayson Tatum has struggled in this spot compared to his price tag this season. He's averaging 35 DraftKings points per game in four games against the Raptors on the year and scored 36 DraftKings points in game one. It's a tough matchup and for a similar price, I would rather get one of those guards in the late game. Kemba Walker is probably my favorite option here, he's scored 40+ DraftKings points in three straight games and the price still isn't high enough on him. Jaylen Brown didn't do anything special last game but was kind of overshadowed by some other great play on the Celtics, I don't mind going right back to him here. Marcus Smart is one of those guys that had a big game for the C's, he dropped 36 DraftKings points. I don't know that this is something to expect from him, but he's a solid play nonetheless. Lastly, Daniel Theis had a phenomenal game one and Enes Kanter didn't even touch the court. Theis is a solid option again here, if you're looking for the backup center on the Celtics it looks like it will be Robert Williams in this series. He played 18 minutes on his way to 24 DraftKings points, if you're really desperate for value in a GPP I guess you can go here but he's a dart throw at best until we see some consistency. From the Raptors, Pascal Siakam had a bad game one and was pretty heavily owned, I'm hoping people see that game one game log and back off keeping his ownership down. I don't love the price tag but he has the upside for tournaments. Both Kyle Lowry and Fred VanVleet are similar prices and both are really a solid option for both cash and GPP, if I had to pick one it would probably be VanVleet just because he's been so good in the playoffs and has flashed a huge ceiling. Serge Ibaka finally got a small minutes boost playing 26 in game one, if we can get 25-30 minutes out of him consistently I would feel more comfortable rostering him day in and day out. Lastly, OG Anunoby has at least 20 DraftKings points in seven straight games, the upside isn't there with him but if you need a guy to round out your cash lineups you could do worse, he's been very consistent.
5-star play: Kemba Walker, Fred VanVleet
4-star play: Jaylen Brown, Jayson Tatum, Marcus Smart, Kyle Lowry, Pascal Siakam
Deeper Value: Robert Williams, OG Anunoby
GPP Sleeper: Robert Williams, Serge Ibaka
Utah Jazz @ Denver Nuggets
Vegas Total: 218.5
Vegas Spread: Den -1.0
The late game is the first game seven of the playoffs and it should be a fun one! We'll get started with the Jazz,  Mike Conley has been very consistent since returning to the bubble. His price has come up here but I think he's still a perfectly viable play on a two-game slate. We know Mitchell and Gobert will get their shots but Joe Ingles will take the biggest blow with Conley back as he has just a 0.74 fantasy point per minute with Conley on the floor this year I've been pretty much avoiding him with Conley back. I hate the price tag on Donovan Mitchell, however, there is no denying the ceiling he has right now. He has at least 60 DraftKings points in two of his last three games and will do his best to put the team on his back tonight, he's in play in all formats as crazy as it seems. Rudy Gobert continues to produce consistent games, I don't love him for GPP because he really hasn't shown a ceiling but I like his consistency for cash games. Royce O'Neale has been pretty quiet lately, I think I would rather go with someone like OG Anunoby if you fall in this price range. From the Nuggets, Nikola Jokic was pretty solid last game and they'll need him here if they want to avoid elimination, he's an excellent play at this price tag. Michael Porter saw another 28 minutes in game 6, I don't really love him because he'll get pulled due to his defense but you can make a case for him in GPPs. Jerami Grant and Monte Morris drew the start for the Nuggets last game but neither of them did a whole lot with this opportunity. Morris becomes unplayable if Gary Harris is active again, however.  Lastly, Jamal Murray is higher priced than Nikola Jokic, didn't think you'd see that this season did you? I'm going right back to Murray here, he's scored at least 67 DraftKings points in three straight games and in an elimination game he's going to do everything he can to keep this team moving.
5-star play: Nikola Jokic, Jamal Murray, Donovan Mitchell
4-star play: Rudy Gobert, Paul Millsap, Mike Conley, Jerami Grant,
Deeper Value: Royce O'Neale, Monte Morris, Gary Harris
GPP Sleeper: Joe Ingles, Jerami Grant, Michael Porter Jr.
Our NBA Full Court Press is FREE in part to SuperDraft DFS.  SuperDraft has an outstanding offer for first time players for a limited time.  Gain a 50% deposit bonus up to $1,000 on your first deposit.  While most of the industry offers smaller bonuses, or special invite-only offers, SuperDraft is getting aggressive….and we want to take advantage!

SuperDraft is full of soft competition in any sport.  Many of the industry sharks refuse to play there because they can't get the volume they desire.  Perfect for smaller players, or wannabe sharks, our staff has tremendous coverage of their unique multiplier format, too.  See our special columns in our cheatsheets!
Our NBA Domination Station lineup optimizer is Powered by DFS Army proprietary projections. The Domination Station will help you create 150 of the highest projected lineups in a matter of minutes. With features that allow you to Like 
 Love 
 or Dislike 
 a player, you can create a fully unique pool of players to generate your lineups from every day. Combine the power of the Domination Station with our VIP Only Articles and the NBA Research Station to really take your game to the next level.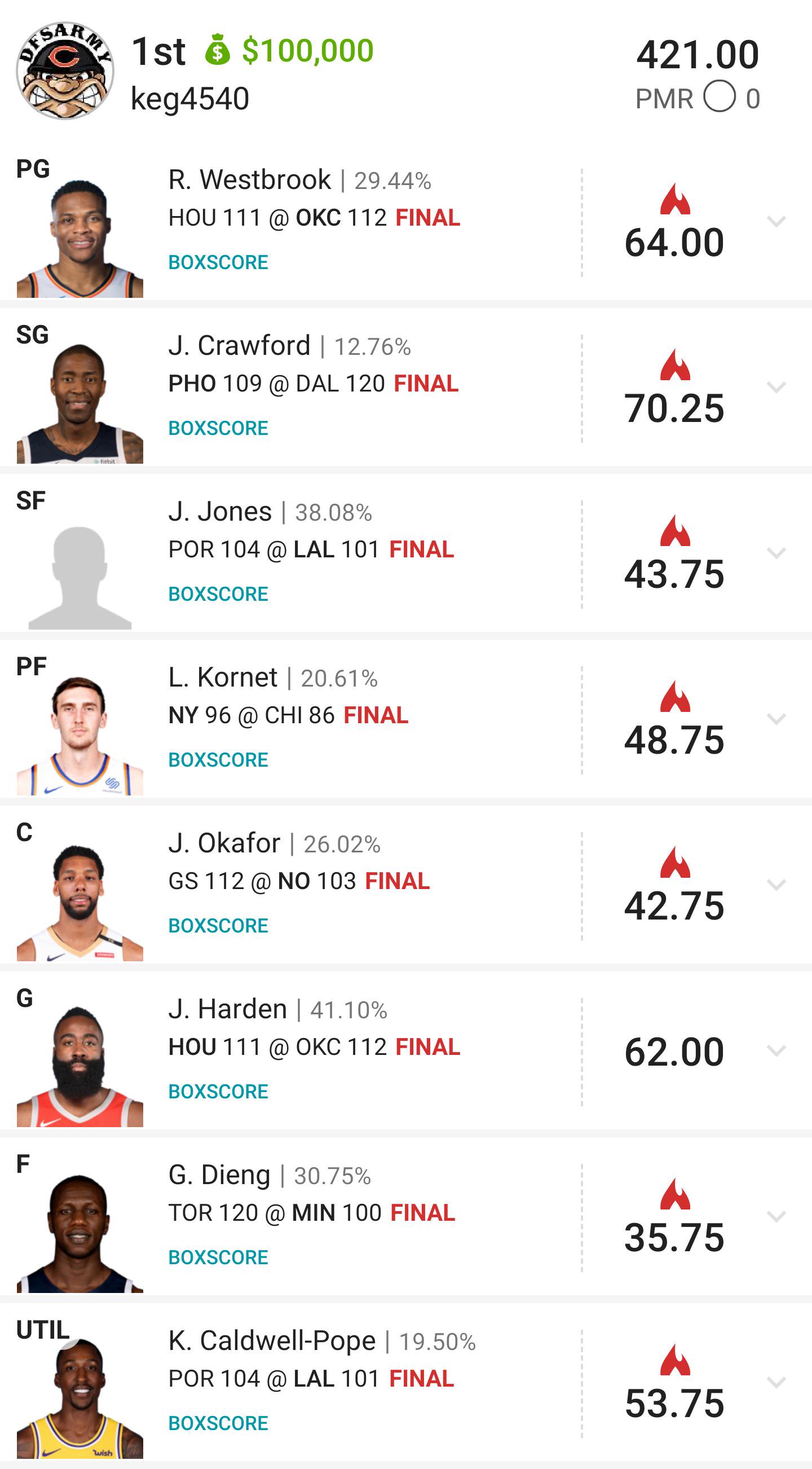 NBA Lock of the Day: Jamal Murray (DK – $9.9k; FD – $9.4k)
Jae Crowder was my lock of the day yesterday against the Bucks, he didn't exactly come through like I wanted him to but he didn't kill you either so we live to fight another day. I'm not getting cute tonight, I'm going with one of the more impressive players in the first round in Jamal Murray. He has three straight games of at least 67 DraftKings points and in an elimination game, I don't expect he's going to play second fiddle. I love the idea of pairing him with Mitchell in tournaments and hope they do what they've been doing and going blow for blow on each end of the court. Love me some Murray tonight in what should be an excellent game 7. Tweet me (@MadnessDFS) your lock predictions and if your player gets over 6.5x I'll give you a shoutout on Twitter, let's have some fun with this!
The only thing you are missing at this point is the key to unlock the next level of your game.  Come inside and check us out!!  We have experts sharing their secrets and experience on a daily basis.  Combine that with the actual ability to ask them questions and get quick answers in return gives you a recipe for success that puts our army hats on leaderboards all over the face of DFS.
When you sign up, don't forget to use promo code MADNESS to save 20% on your membership each and every month!
Editor's Note – However, if you are more interested in simply betting the games, NBA is full of crazy action.  And, our dynamic modeling over at SportsBetArmy adjusts in real time to help identify Vegas inaccuracies you can exploit.  Follow Ryan, Anthony, and Statsational for models and coaching advice that help you build any bankroll for any sport…