Full Court Press Breakdown for NBA DFS 8/31:
Miami Heat @ Milwaukee Bucks
Vegas Total: 223.5
Vegas Spread: Mil -5.5
We kick off this second-round series with the Bucks opening up as 5.5 favorites against the Heat. We'll get things started with Miami, Jimmy Butler scored 38.5 DraftKings points in his only matchup with Milwaukee this season. The price is about right here, but he'll be out there for 35+ minutes and makes for a great play in all formats. Bam Adebayo is averaging 38.6 DraftKings points per game in three games against Milwaukee on the season. We have to keep in mind that two of those games were without Butler, so that line isn't all that impressive. The price tag is still something I like on him however, the Bucks are susceptible to giving up rebounds as odd as that seems. Goran Dragic should continue to start here, he's scored at least 30 DraftKings points in eight straight games, he's a solid cash play and playable for GPPs on a small slate. The guys that will have big games on random nights in this series will be the wing guys on this team that can get hot from three-point land. The Bucks will give opposing teams open three-point looks all night, so guys like Tyler Herro, Duncan Robinson, and Jae Crowder all make sense here and have pretty big upside if they can knock down some shots. From Milwaukee, Eric Bledsoe is listed as questionable here so we need to monitor news on him, make sure to keep an eye on that Breaking News Feed for who benefits if he is out. Giannis Antetokounmpo is averaging 55.3 DraftKings points per game in three games against the Heat this season, he's an elite play any time he steps on the court and that won't change tonight. Khris Middleton finally got right last game scoring 48 DraftKings points, however, he runs into a buzzsaw on defense with Jimmy Butler in this series. That said, the Bucks play so fast that I don't know how much 1 v. 1 defense really matters, I'll let other people overreact to the matchup, I like him here. If Eric Bledsoe plays, I like him as a secondary GPP option, his price is getting to a point where I don't love it for cash games. Brook Lopez has played well against the Heat this season, Adebayo may have trouble getting out on those threes that Lopez wants to shoot, so I like Lopez a good amount tonight in all formats and I love the price tag. Lastly, George Hill makes sense as a value option especially if Bledsoe is banged up.
5-star play: Jimmy Butler, Bam Adebayo, Giannis Antetokounmpo, Khris Middleton, Jae Crowder
4-star play: Goran Dragic, Tyler Herro, Duncan Robinson, Eric Bledsoe, Brook Lopez
Deeper Value: George Hill
GPP Sleeper: Tyler Herro, Duncan Robinson, Jae Crowder, Eric Bledsoe
Houston Rockets @ Oklahoma City Thunder
Vegas Total: 225.5
Vegas Spread: Hou -6.0
Starting with the Thunder, Shai Gilgeous-Alexander fell off a cliff last game after playing well most of the series. I'm willing to go right back to him here hoping we can get low ownership on a small slate, he's been good for most of this series. Steven Adams had a nice game on Saturday, I don't hate the price tag and when he's in he should dominate this small Rockets frontcourt, he makes sense as a secondary option. Chris Paul didn't play so well last game and didn't see a ton of minutes but that may have been due to a blowout, they need him here to avoid elimination I like going back to him here. Danilo Gallinari and Dennis Schroeder both have been playing well if we exclude the last game (nobody on OKC played well last game) and are excellent secondary options and are solid in GPPs as well. Gallinari is a guy that I'm a little less interested in however, he had a dud last time out and doesn't quite have the same upside as a guy like Schroeder. Lastly, Luguentz Dort will be out there as much as he can in order to guard James Harden, so if you need a dart throw on a guy that'll see minutes I guess there's an option for you. From the Rockets, Russell Westbrook returned last game and played 24 minutes but they really didn't need to push him. I'm sure if they needed him he could have played 30 ish minutes, I like going right back to him here at under $10k. James Harden's usage will go down with Westbrook on the court but the Rockets won't be able to solely focus on him so it may help him in a way, he dropped 45.5 DraftKings points in 28 minutes, he's right there with Giannis as the top raw play on the slate. Eric Gordon has five straight games of at least 30 DraftKings points and didn't seem too bothered by Westbrook being in there, he's a solid play particularly for GPPs. Robert Covington finally played well last game going for 43 DraftKings points, he will likely draw big ownership today due to his price tag, but I'm okay with it. Lastly, Jeff Green and Danuel House both make nice secondary options in all formats.
5-star play: James Harden, Russell Westbrook, Chris Paul, Shai Gilgeous-Alexander
4-star play: Danuel House, Danilo Gallinari, Dennis Schroeder, Eric Gordon, Jeff Green
Deeper Value: PJ Tucker
GPP Sleeper: Dennis Schroeder
Our NBA Full Court Press is FREE in part to SuperDraft DFS.  SuperDraft has an outstanding offer for first time players for a limited time.  Gain a 50% deposit bonus up to $1,000 on your first deposit.  While most of the industry offers smaller bonuses, or special invite-only offers, SuperDraft is getting aggressive….and we want to take advantage!

SuperDraft is full of soft competition in any sport.  Many of the industry sharks refuse to play there because they can't get the volume they desire.  Perfect for smaller players, or wannabe sharks, our staff has tremendous coverage of their unique multiplier format, too.  See our special columns in our cheatsheets!
Our NBA Domination Station lineup optimizer is Powered by DFS Army proprietary projections. The Domination Station will help you create 150 of the highest projected lineups in a matter of minutes. With features that allow you to Like 
 Love 
 or Dislike 
 a player, you can create a fully unique pool of players to generate your lineups from every day. Combine the power of the Domination Station with our VIP Only Articles and the NBA Research Station to really take your game to the next level.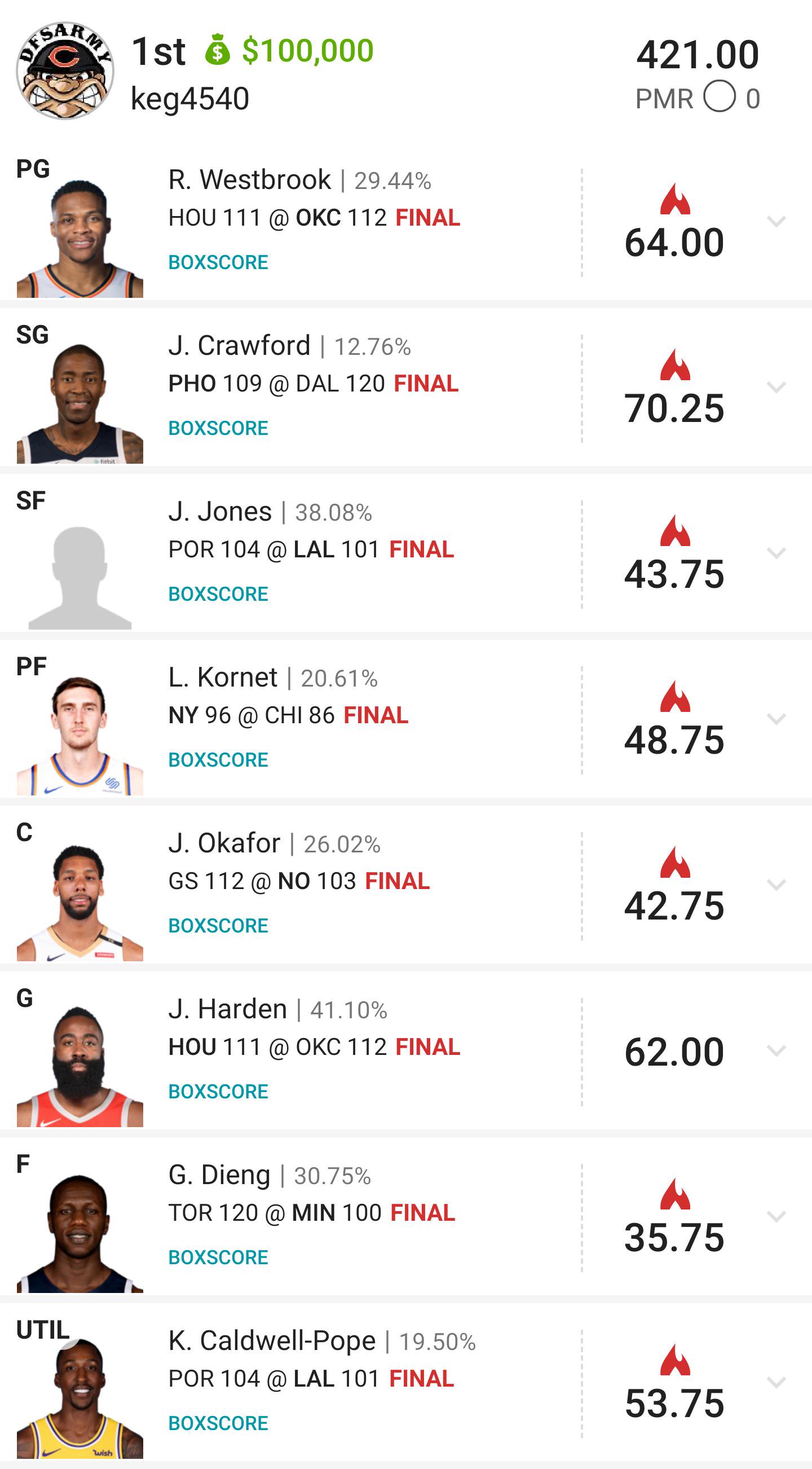 NBA Lock of the Day: Jae Crowder (DK – $4.5k; FD – $4.7k)
Kemba Walker was my lock yesterday and he came through big for us, so lets' keep it going to get the week rolling! Jae Crowder is going to be my guy tonight, going to go a little off the board in terms of not being a star. Crowder is a great price tag here and his game sets up well for a matchup with Milwaukee. He's averaging 27.8 DraftKings points per game in two games against the Bucks this season. His price tag lets us do a lot with the rest of our roster and if he can get hot from three we'll be cooking, go get yourself some Crowder tonight! Tweet me (@MadnessDFS) your lock predictions and if your player gets over 6.5x I'll give you a shoutout on Twitter, let's have some fun with this!
The only thing you are missing at this point is the key to unlock the next level of your game.  Come inside and check us out!!  We have experts sharing their secrets and experience on a daily basis.  Combine that with the actual ability to ask them questions and get quick answers in return gives you a recipe for success that puts our army hats on leaderboards all over the face of DFS.
When you sign up, don't forget to use promo code MADNESS to save 20% on your membership each and every month!
Editor's Note – However, if you are more interested in simply betting the games, NBA is full of crazy action.  And, our dynamic modeling over at SportsBetArmy adjusts in real time to help identify Vegas inaccuracies you can exploit.  Follow Ryan, Anthony, and Statsational for models and coaching advice that help you build any bankroll for any sport…