Full Court Press Breakdown for NBA DFS 8/25:
Utah Jazz @ Denver Nuggets
Vegas Total: 221.0
Vegas Spread: Utah -3.0
Starting with the Jazz, they clearly have found a way to exploit Denver and Mike Malone, if they don't make adjustments this series could be over before you know it. Mike Conley has scored 38+ DraftKings points in each of his last two games since returning to the bubble. His price has come up here but I think he's still a perfectly viable play on a two-game slate. We know Mitchell and Gobert will get their shots but Joe Ingles will take the biggest blow with Conley back as he has just a 0.74 fantasy point per minute with Conley on the floor this year. Donovan Mitchell had another one of those massive games last time out where he went for 66 DraftKings points. I just can't stomach paying this much for him. For $300 extra dollars you can get to Kawhi Leonard, I guess you can talk me into it for GPPs since he's shown the ceiling but he's not doing it consistently enough for me to feel comfortable going very heavy on Mitchell. Rudy Gobert continues to produce consistent games, I don't love him for GPP because he really hasn't shown a ceiling but I like his consistency for cash games. I was all over Royce O'Neale last time out and he ended up dudding pretty hard. His price has come up but he's still playing huge minutes. Due to the playing time he's getting he's still in play for me on a short slate. From the Nuggets, Nikola Jokic was pretty solid last game and they'll need him here if they want to avoid elimination, he's an excellent play at this price tag. Michael Porter played just 15 and 23 minutes in the last two games and is a fade for me, I think Malone finally realized that he's a complete liability on defense and can't be out there in a game of this magnitude. Jerami Grant and Monte Morris drew the start for the Nuggets last game but neither of them did a whole lot with this opportunity. It was nice to see Morris play 36 minutes however and is in play if he's going to get that type of run. Lastly, Jamaal Murray showed just how big his upside is on Sunday night going for 82 DraftKings points. His price tag came all the way up to $8k, but deservedly so, he's an elite GPP option and if you really want to spend some money and make a correlation you stack Murray with Mitchell and hope they go blow for blow like they have a few times in this series.
5-star play: Nikola Jokic
4-star play: Rudy Gobert, Donovan Mitchell, Paul Millsap, Jamaal Murray, Mike Conley, Jerami Grant, Monte Morris
Deeper Value: Royce O'Neale, Monte Morris
GPP Sleeper: Joe Ingles, Jerami Grant, Michael Porter Jr.
Our NBA Full Court Press is FREE in part to SuperDraft DFS.  SuperDraft has an outstanding offer for first time players for a limited time.  Gain a 50% deposit bonus up to $1,000 on your first deposit.  While most of the industry offers smaller bonuses, or special invite-only offers, SuperDraft is getting aggressive….and we want to take advantage!

SuperDraft is full of soft competition in any sport.  Many of the industry sharks refuse to play there because they can't get the volume they desire.  Perfect for smaller players, or wannabe sharks, our staff has tremendous coverage of their unique multiplier format, too.  See our special columns in our cheatsheets!
Dallas Mavericks @ Los Angeles Clippers
Vegas Total: 235.5
Vegas Spread: Lac -6.5
We'll start the primetime matchup with the Mavericks. Luka Doncic went completely nuts last game on his way to 92 DraftKings points and the Clippers had no matchup for him on defense. He's probably the best raw points option on this slate, but you'll pay for it with his price tag. He's an elite play regardless on a short slate. Kristaps Porzingis was a late scratch last time out due to his knee soreness. It sounds like he's a game-time decision for Game 5, if you're going to play him you need to have him in your utility and able to switch off him if need be. I'm not talking switch off him to Zubac, you want to be able to either get up to Kawhi or comfortably go down to someone like Paul George or Lou Williams and go up elsewhere. After those two there is a bit of a drop off to guys like Tim Hardaway Jr. and Seth Curry who are GPP options here. Both guys have looked pretty good lately and I would feel pretty comfortable rounding out my lineup with one of them. Lastly, Maxi Kleber is playing all the minutes he can handle right now and will see more opportunities if Kristaps is forced to miss again, he's more of a GPP option as his floor is not comforting for cash games. One last thing, if we get the news that Porzingis will sit early enough, keep an eye out for that starting lineup, they may throw Boban Marjanovic in at starting center. If this is this case he can be played as a value play but understand that he may only see around 15 minutes. From the Clippers, we know how good Kawhi Leonard can be in the playoffs and in a great matchup against the Mavericks at $10k, sign me up. He has at least 50 DraftKings points in four straight games and is just so solid, he's an excellent cash game option and has the upside you're looking for in GPPs as well. Paul George has been painfully bad this series, there is a lot of speculation that he may be hurt again as he just doesn't look right. His price is a bit high for me but you can go here in GPPs on the off chance that he turns it around here. Lou Williams picked up for Paul George's slack last game and dropped 50 DraftKings points, his price isn't terrible here either, he's firmly in play. Lastly, Montrezl Harrell isn't in play for me until he's back up to his full minutes; I thought we'd start to see those minutes increase, but they just haven't, he's not playable right now. Ivica Zubac makes sense as a GPP center option and a guy that we can use as value on a short slate. Lastly, Marcus Morris came back down to Earth last game but was very consistent leading up to that point, I'm willing to go back to him here in hopes that ownership has fallen off on him.
5-star play: Luka Doncic, Kawhi Leonard
4-star play: Tim Hardaway Jr., Kristaps Porzingis, Lou Williams, Paul George, Maxi Kleber
Deeper Value: Ivica Zubac, Boban Marjanovic
GPP Sleeper: Tim Hardaway Jr., Ivica Zubac, Lou Williams, Seth Curry, Maki Kleber
Our NBA Domination Station lineup optimizer is Powered by DFS Army proprietary projections. The Domination Station will help you create 150 of the highest projected lineups in a matter of minutes. With features that allow you to Like 
 Love 
 or Dislike 
 a player, you can create a fully unique pool of players to generate your lineups from every day. Combine the power of the Domination Station with our VIP Only Articles and the NBA Research Station to really take your game to the next level.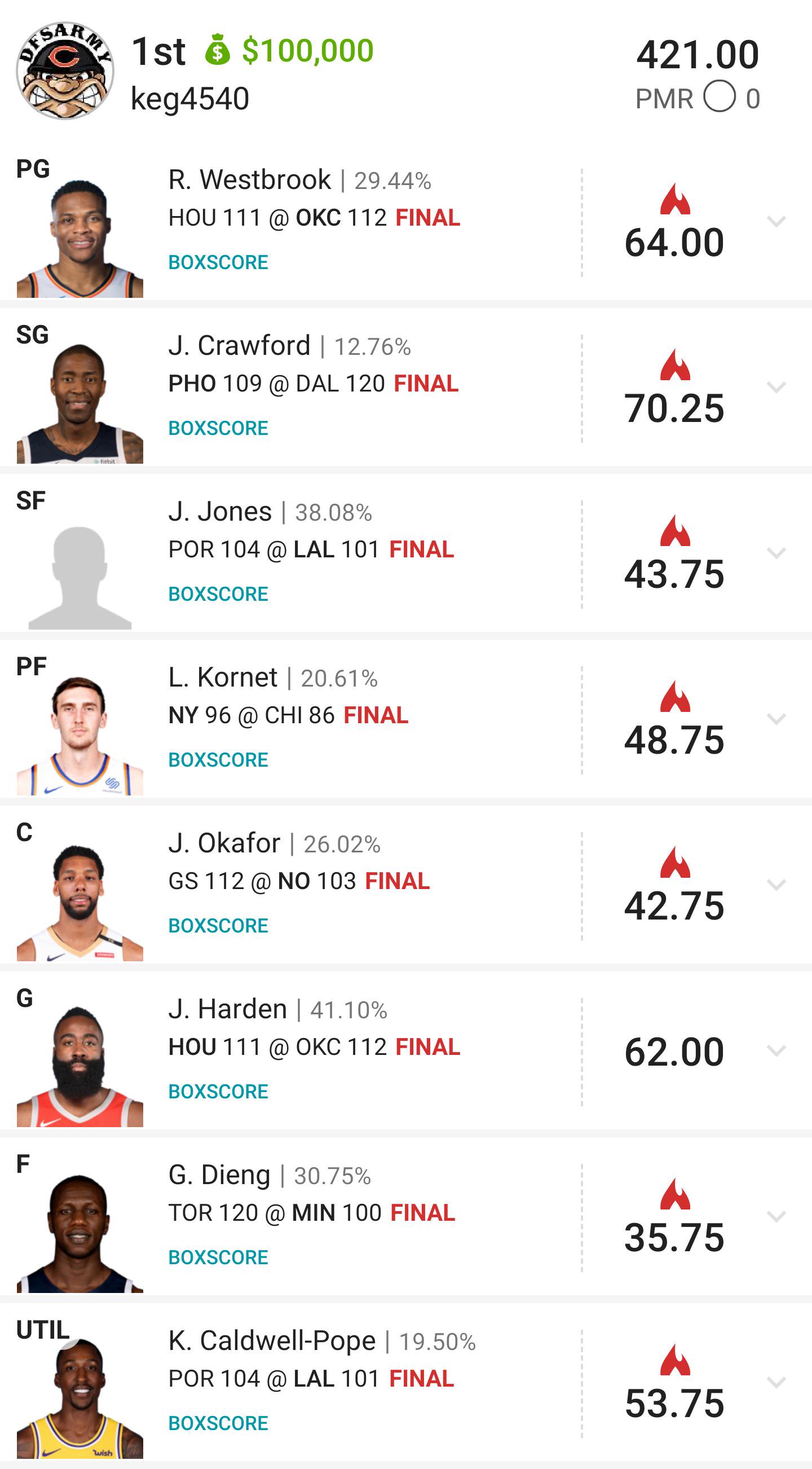 NBA Lock of the Day: Lou Williams (DK – $6.4k; FD – $6.2k)
Jeff Green was my lock yesterday and he disappointed a bit, so looking to get back on track here. Lou Williams will be that guy for me on this two-game slate. He proved that he can score in bunch's last game and is a guy that can help shoulder the load if Paul George is actually hurt. Even if he's not hurt, he's not playing like Paul George in this series. Lou owns the usage in that second unit and this series has been fast-paced leaving plenty of opportunities for Lou to get some scoring, I like the price on him and think there's still meat on the bone to hit GPP value as well, love me some sweat Lou here! Tweet me (@MadnessDFS) your lock predictions and if your player gets over 6.5x I'll give you a shoutout on Twitter, let's have some fun with this!
The only thing you are missing at this point is the key to unlock the next level of your game.  Come inside and check us out!!  We have experts sharing their secrets and experience on a daily basis.  Combine that with the actual ability to ask them questions and get quick answers in return gives you a recipe for success that puts our army hats on leaderboards all over the face of DFS.
When you sign up, don't forget to use promo code MADNESS to save 20% on your membership each and every month!
Editor's Note – However, if you are more interested in simply betting the games, NBA is full of crazy action.  And, our dynamic modeling over at SportsBetArmy adjusts in real time to help identify Vegas inaccuracies you can exploit.  Follow Ryan, Anthony, and Statsational for models and coaching advice that help you build any bankroll for any sport…