Welcome to the DFS Army NBA Free Squares article, where I will try to break down my favorite NBA Free Squares and Fanduel and Draftkings for Today's NBA slate.
So what is a Free Square exactly? In DFS we define the Free Square as a player to build your lineups around. Generally, this player represents the closest we can find to a sure thing for the slate.
This column is all about trying to identify the free square for a particular slate. Often times, this will be a low-cost player who is thrust into a starting role and sure to make or exceed value. The type of player that allows us to load up the rest of our lineup with high salary studs. Occasionally it will be a high priced stud in a great spot. Each slate we will take a look at three or four players which represent great value on the day's slate of games and choose the one which best represents the top value and floor play to earn the title of the slates Free Square
My NBA Free Squares for Today 🇺🇸 December 2nd 🇺🇸
🇺🇸 Tyus Jones $5,600 / $4,000
This is a Fanduel specific play as Draftkings has priced him appropriately very quickly for tonight's slate. We're expecting Ja Morant to be out for a while for the Grizzlies, so, Tyus Jones should be the starting point guard tonight and for the foreseeable future. He has flashed big upside in the past, but, not much recently this season. That being said he's pretty safe and should play around 25-30 in his new starting role for the time being. He played 25 minutes last game against the T'Wolves and scored 31.0 fantasy points. On Fanduel he'll be super chalky, but I've got a pivot for our VIP Members lined up already 🤑 so be sure to jump in our VIP Only Chat sometime this afternoon ❤🤟
🇺🇸 Dennis Smith Jr $3,200 / $3,600
The Knicks are likely to be without Frank Ntilikina tonight, and that should free up a ton of minutes for Smith Jr are near min price across the industry. He had a real solid game yesterday against the Celtics where he played 38 minutes and scored 32.75 fantasy points. I'm not sure if we can expect 38 more minutes again tonight, but, even if he only plays 30 or so, he should be able to pay off his dirt-cheap price tag fairly easily.
The NBA Research Station is my #1 source for research every single day and is one of the VIP Only tools our members have access to daily. The info in the NBA ReSearch Station includes today's 📊 DFS Army Projection, Adjusted DVP matchups and much more. This tool will cut your daily research time in half. If you're familiar with Myself and Ben you already know the time we've put into the "Sheets" over the years and we're extremely happy to provide them as apart of your DFS Army VIP Membership this year.
---
🇺🇸 Giannis Antetokounmpo $12,000 / $12,200
Not "free" by any stretch, but, in my opinion, he's someone you simply can't fade on this slate. His FLOOR would be the 6th highest projection this slate which is pretty crazy to even think about. He's coming off a down game against the Hornets, where he "only" scored 45.25 fantasy points. The crazy part is that he scored those 45.25 fantasy points in only 19 minutes!!! The Blowout is a bit of a concern here against the Knicks but even with that threat, I'm not getting off Giannis tonight. There is plenty of value to fit him in and I don't see a reason not to.
🇺🇸 Robin Lopez $4,400 / $3,500
He will start for his injured brother Brook Lopez tonight vs the Knicks. He's dead minimum 3.5k on Fanduel but priced up to 4.4k on DK so I prefer him on Fanduel tonight. Last game he played 24 minutes in his brother's absence and scored 33.0 fantasy points. He'll be chalky, so if you wanna pay up at Center that would be a good way to be contrarian on Fanduel tonight.
Our NBA Domination Station lineup optimizer is Powered by DFS Army proprietary projections. The Domination Station will help you create 150 of the highest projected lineups in a matter of minutes. With features that allow you to Like 😀 Love 😍 or Dislike 😡 a player, you can create a fully unique pool of players to generate your lineups from every day. Combine the power of the Domination Station with our VIP Only Articles and the NBA Research Station to really take your game to the next level.
Make sure you check out Kevin's 150 lineup MME Tutorial HERE
AND 1 Top 3's today
The AND 1 rating was developed by Ben Jammin @xBenJamminx and is apart of our NBA Research Station.The rating is an all-encompassing metric that will lead you to the best plays on each slate each day. One of my favorite things to do is use the ADORE 😍 feature in the Domination Station on all of these players so that I'm sure to get heavy exposure to them across my lineups.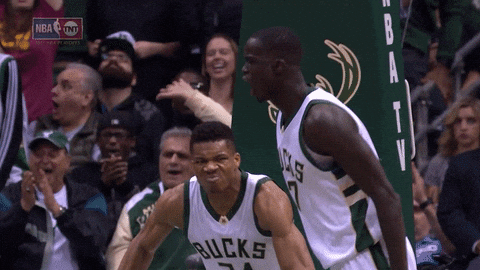 Giannis Antetokounmpo leads the slate today with a 24.9 AND1 Rating in his matchups against the Knicks. Check out the Rest of the Top 3 at each position below. Mix in the Free Squares with these guys below when you build your lineup this evening.
PG – Trae Young
Terry Rozier
Malcolm Brogdon
SG – Buddy Hield
Zach LaVine
Devonte' Graham
SF – Giannis Antetokounmpo
Alec Burks
Harrison Barnes
PF – Domantas Sabonis
Jabari Parker
PJ Washington
C – Joel Embiid
Bismack Biyombo
Cody Zeller
Now is the time to get on board and join a great community that is driven to help you improve your DFS Game!
Our DFS Army VIP Members  get access to
💥 Research stations 💥 Domination Station Optimizer 💥 VIP Articles 💥 One on One Coaching