Welcome to the DFS Army NBA Free Squares article, where I will try to break down my favorite NBA Free Squares and Fanduel and Draftkings for Today's NBA slate.
So what is a Free Square exactly? In DFS we define the Free Square as a player to build your lineups around. Generally, this player represents the closest we can find to a sure thing for the slate.
This column is all about trying to identify the free square for a particular slate. Often times, this will be a low-cost player who is thrust into a starting role and sure to make or exceed value. The type of player that allows us to load up the rest of our lineup with high salary studs. Occasionally it will be a high priced stud in a great spot. Each slate we will take a look at three or four players which represent great value on the day's slate of games and choose the one which best represents the top value and floor play to earn the title of the slates Free Square
My NBA Free Squares for Today 🇺🇸 December 11th
Milwaukee Bucks
Giannis Antetokounmpo is OUT for tonight's game against the Pelicans. This is going to push Eric Bledsoe, Khris Middleton and to a lesser extent Ersan Illyasova into the forefront of this slate in terms of Ownership. Bledsoe is only $6,000 on Draftkings and $7,000 on Fanduel and against the Pelicans without Giannis, he should absolutely EAT tonight. Bledsoe averages right around 1.50 fantasy points per minute, Middelton is right around 1.40 and simply put they both way too cheap with Giannis off the floor.
Ersan Illyasova is only $3,400 on Draftkings and $3,800 on Fanduel tonight and with this Giannis news, he will likely be the default salary saver for most people. The Bucks have the highest implied team total on the slate (121.25), and they have an ELITE matchup vs the Pelicans who rank 27th in defensive efficiency and played at the 5th highest pace in the league. I see no reason to go a different direction in cash games tonight.
If you're looking for GPP pivots in the same price range, take a look at Chris Paul vs the Kings and Terry Rozier vs the Nets. Also, for a little more you can get up to Spencer Dinwiddie, without Kyrie Irving in the lineup, who should be a little less owned with this Bucks news.
Donovan Mitchell $7,400 / $8,100
Mitchell is too cheap tonight for the role he'll be playing on the Jazz with Mike Conley sidelined. He should be the primary ball handler in a game against the T'Wolves. The Jazz have the 6th highest team total on the slate at 112 and Mitchell should be able to do some damage at his price tonight. In his last 3 games, with Mike Conley out, Mitchell has usage rates of 37%, 33% and 38%. He has not really put up a monster game yet, but it's nice to know he's got the opportunity to do so. He should be lower owned now that everyone will flock to roster the Bucks players. He's a better play at Draftkings, priced at only $7,400 but I'll have plenty of him on Fanduel as well.
Note – Joe Ingles gets a bump here as well with Conley off the floor. He has scored 31.5 and 37.25 fantasy points in his last two games and he's only priced at $5,300 on Draftkings and $5,000 0n Fanduel.
The NBA Research Station is my #1 source for research every single day and is one of the VIP Only tools our members have access to daily. The info in the NBA ReSearch Station includes today's 📊 DFS Army Projection, Adjusted DVP matchups and much more. This tool will cut your daily research time in half.
Did you know Grizzlies PF Brandon Clarke leads the "Who's Hot" list today? Over his last 10 games, he is averaging 12.27 more fantasy points per game than he was averaging over his last 3 Games. We can also see that Devin Booker, Anthony Davis and Ivica Zubac are "Hot" as well. Check out this section and many others in the NBA Research Station only available here at DFS Army!
---
DON'T FORGET ABOUT ME
Spencer Dinwiddie gets another game without Kyrie Irving tonight. While his price is now closer to where it should be, he just continues to produce night after night. On Draftkings his price is $8,100 and on Fanduel he is priced right at $8,000. Over his last 12 games, he has scored no fewer than 35.25 fantasy points. That is some real solid consistency and for me, he still has plenty of upside even with his corrected price tag. I don't think many people will pay up for him, with all the value on the Bucks so he could be a super sneaky tourney play this evening.
Our NBA Domination Station lineup optimizer is Powered by DFS Army proprietary projections. The Domination Station will help you create 150 of the highest projected lineups in a matter of minutes. With features that allow you to Like 😀 Love 😍 or Dislike 😡 a player, you can create a fully unique pool of players to generate your lineups from every day. Combine the power of the Domination Station with our VIP Only Articles and the NBA Research Station to really take your game to the next level.
Make sure you check out Kevin's 150 lineup MME Tutorial HERE
AND 1 Top 3's today
The AND 1 rating was developed by Ben Jammin @xBenJamminx and is apart of our NBA Research Station.The rating is an all-encompassing metric that will lead you to the best plays on each slate each day. One of my favorite things to do is use the ADORE 😍 feature in the Domination Station on all of these players so that I'm sure to get heavy exposure to them across my lineups.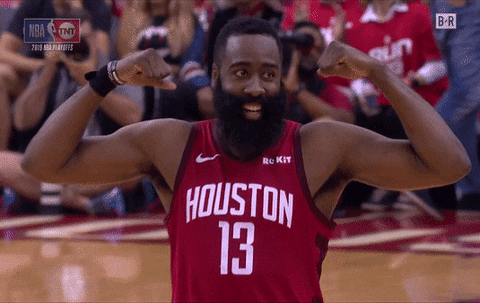 James Harden leads the slate today with a 25.5 AND1 Rating in his matchups against the Cavs. Check out the Rest of the Top 3 at each position below. Mix in the Free Squares with these guys below when you build your lineup this evening.
PG – Russell Westbrook
Spencer Dinwiddie
Ricky Rubio
SG – James Harden
Devin Booker
Donovan Mitchell
SF – Giannis Antetokounmpo
Bojan Bogdanovic
Kelly Oubre
PF – Kawhi Leonard
Marvin Bagley
Lauri Markkanen
C – Karl-Anthony Towns
Rudy Gobert
Tristan Thompson
Now is the time to get on board and join a great community that is driven to help you improve your DFS Game!
Our DFS Army VIP Members  get access to
💥 Research stations 💥 Domination Station Optimizer 💥 VIP Articles 💥 One on One Coaching