Welcome to the DFS Army NBA Free Squares article, where I will try to break down my favorite NBA Free Squares and Fanduel and Draftkings for Today's NBA slate.
So what is a Free Square exactly? In DFS we define the Free Square as a player to build your lineups around. Generally, this player represents the closest we can find to a sure thing for the slate.
This column is all about trying to identify the free square for a particular slate. Often times, this will be a low-cost player who is thrust into a starting role and sure to make or exceed value. The type of player that allows us to load up the rest of our lineup with high salary studs. Occasionally it will be a high priced stud in a great spot. Each slate we will take a look at three or four players which represent great value on the day's slate of games and choose the one which best represents the top value and floor play to earn the title of the slates Free Square
My NBA Free Squares for Today 🇺🇸 November 15th 🇺🇸
Today we get a  solid 8 game Friday slate to breakdown. Currently, the highest implied team totals belong to the T'Wolves (123.75), the Wizards (117.25) and the Celtics (115.75). While the three lowest totals belong to the Kings (102), the Grizzlies (103.25) and the Spurs (103.75).
(prices shown are Draftkings / Fanduel)
🇺🇸 PJ Tucker $4,500 / $5,000
Tyson Chandler could start at center but I can't see him playing a ton of minutes at this stage in his career and with Clint Capela is out for the Rockets tonight so we should see PJ Tucker get some run at center in this game vs the Pacers. Tucker has played 38, 33, 32, 37 and 34 minutes in his past 5 games. Unfortunately, only 1 of those games was a great DFS game, against the Warriors when he scored 45.75 fantasy points. The other 4 games he was right around 20 fantasy points each game. I like the idea of him playing 35+ minutes and as apart of the team with the highest implied total on the slate I think he's got a real good chance to pay off his salary tonight.
NOTE – James Harden is the most expensive player on the slate on both sites tonight but he could be a near lock given the Rockets injury situation. Without Clint Capela, Eric Gordon and Danuel House, we should see James Harden handle the ball even more than usual. His last 5 games he has scored 71.5, 62, 75, 74.5 and 73.5 fantasy points. I may just lock in Harden and Tucker and build from there tonight on Draftkings.
🇺🇸 Andre Drummond $8,400 / $10,300
This is a Draftkings specific play for me, and when I checked salaries this morning this one stuck out like a sore thumb. His numbers are a little down with Blake Griffin back in the fold but, I still believe $8,400 is simply too cheap for Drummond in this spot against the Hornets who simply can't rebound the ball. I'm expecting another Barbara Walters 20/20 special from Drummond tonight.
The NBA Research Station is my #1 source for research every single day and is one of the VIP Only tools our members have access to daily. The info in the NBA ReSearch Station includes today's 📊 DFS Army Projection, Adjusted DVP matchups and much more. This tool will cut your daily research time in half. If you're familiar with Myself and Ben you already know the time we've put into the "Sheets" over the years and we're extremely happy to provide them as apart of your DFS Army VIP Membership this year.
---
🇺🇸 Pacers
Turn and Lamb are expected to be out again tonight so we can roster Domantas Sabonis with confidence tonight. I wouldn't really call him a Free Square, but, he's been crushing recently with Turner off the floor and he should keep that up tonight against the Rockets who will be without Clint Capela. The Pacers will likely start Aaron Holiday again for Lamb, but, he's a little priced up out of the punt value range he was a few days ago. Still, in this game environment, he could be a solid play here as well. Maclom Brogdon is in play here as well, as this is just a great spot for the Pacers overall.
🇺🇸 Celtics
Gordon Hayward is still out, and he will be out for a few weeks. Marcus Smart will start for him and we'll get boosts for Kemba Walker, Jason Tatum and Jaylen Brown while he's out. None of these three really qualify as "Free Squares" but I want to mention them because of the increased usage and opportunities they will see with Hayward out. Daneil Theis and Robert Williams are also being listed as questionable tonight, so we should expect Enes Kanter to start again. I'm not marking him up as a Free Square but he's a decent value play, and we've seen him flash upside in limited minutes in the past.
Our NBA Domination Station lineup optimizer is Powered by DFS Army proprietary projections. The Domination Station will help you create 150 of the highest projected lineups in a matter of minutes. With features that allow you to Like 😀 Love 😍 or Dislike 😡 a player, you can create a fully unique pool of players to generate your lineups from every day. Combine the power of the Domination Station with our VIP Only Articles and the NBA Research Station to really take your game to the next level.
Make sure you check out Kevin's 150 lineup MME Tutorial HERE
AND 1 Top 3's today
The AND 1 rating was developed by Ben Jammin @xBenJamminx and is apart of our NBA Research Station.The rating is an all-encompassing metric that will lead you to the best plays on each slate each day. One of my favorite things to do is use the ADORE 😍 feature in the Domination Station on all of these players so that I'm sure to get heavy exposure to them across my lineups.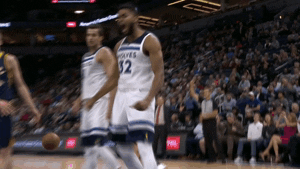 Karl Anthony Towns leads the slate today with a 26.5 AND1 Rating in his matchups against the Wizards. Check out the Rest of the Top 3 at each position below. Mix in the Free Squares with these guys below when you build your lineup this evening.
PG – Derrick Rose
Russell Westbrook
Ben Simmons
SG – Bradley Beal
James Harden
Andrew Wiggins
SF – LeBron James
Harrison Barnes
Jake Layman
Luke Kennard
PF – Anthony Davis
Kyle Kuzma
Robert Covington
C – Karl-Anthony Towns
Andre Drummond
Thomas Bryant
Joel Embiid
Now is the time to get on board and join a great community that is driven to help you improve your DFS Game!
Our DFS Army VIP Members  get access to
💥 Research stations 💥 Domination Station Optimizer 💥 VIP Articles 💥 One on One Coaching