Welcome to the DFS Army NBA Free Squares article, where I will try to break down my favorite NBA Free Squares and Fanduel and Draftkings for Today's NBA Slate.
So what is a Free Square exactly? In NBA DFS there will be situations that come up that will lead to bench players getting more minutes. Some may even enter the starting lineup. The low cost of these players will allow us to spend up across the rest of our lineups. Wich gives us the ability to lock in some high dollar studs.
---
NBA Free Squares for Today February 11th
💥 CHI – SF – Jabari Parker $3,900 / $5,600
For some reason, Jabari Parker's price has not changed on Fanduel despite scoring 40+ fantasy points in 3 straight games. Over his last 3 games, he is averaging 30 minutes and 41.9 fantasy points per game. At his current price of $3,900 he is a LOCK BUTTON play for me tonight on Fanduel. On Draftkings he's not an autoplay with a $5,600 price tag but he is still a good player over there. The Pistons are a solid team vs Small Forwards on the year allowing 7% fewer fantasy points to the position than the league average, however, Parker's price is simply too good to pass up here.
💥 LAC – C – Ivica Zubac $3,900 / $4,00
Zubac has only played 1 game with his new team in LA since being traded. He played 23 minutes and scored 29.8 fantasy points in that game vs the Celtics. We're not 100% sure how many minutes he will get with his new team but we do know he has shown tremendous upside at these low prices in the past. We have him projected for 24 minutes currently and 5.5x value. If he can approach 30 minutes he will absolutely SMASH his price tag today on Fanduel of $3,900. His Draftkings price is very low as well, only $4,000 so he'll be one of my favorite value plays on both sites tonight. We know he's a great value on Fanduel, but it's a little tougher to lock him in 100% with all the STUD Centers on the slate.
The NBA Research Station is my #1 source for research every single day and is one of the VIP Only tools our members have access to daily. The info in the NBA ReSearch Station includes today's 📊 DFS Army Projection, Adjusted DVP matchups and much more. This tool will cut your daily research time in half. If you're familiar with Myself and Ben you already know the time we've put into the "Sheets" and we're extremely happy to provide them as apart of your DFS Army VIP Membership this year.
💥 NYK – SF – Kevin Knox – $4,600 / $5,00
Knox has not had a slate breaking game in a while. He hasn't scored 40+ since 1/13/19 vs the Sixers. That being said he's playing a TON of minutes for this Knicks team who is in full TANK MODE. Over his last 5 games he's averaging 37 minutes and 16 shots per game. Tonight he gets a great matchup vs the Cavailers who have one of the worst Defenses in the NBA with a Team Defensive Efficiency Rating of 115. Knox is only $4,600 on Fanduel and has great upside at this price.
💥 MIA – SG – Dion Waiters – $4,400 / $4,100
I usually only target Waiters when I think Dwyane Wade is going to be out. Recently however we've seen Waiters minutes take a huge jump up even with Wade healthy. Over his last 5 games, he is averaging 29 minutes and 11 shots per game. He's coming off a solid game Sunday where he played 41 minutes and scored 36.6 fantasy points against the Warriors. I'm looking for that to continue tonight in Denver. The matchup is not ideal given the fact that the Heat are on a back to back traveling into the Thin Air of Denver. The back to back has me thinking we may see less of Dwyane Wade tonight which will open up even more shots for Waiters. He's not safe by any means but he has great upside at this price.
Our NBA Domination Station lineup optimizer is Powered by DFS Army proprietary projections. The Domination Station will help you create 150 of the highest projected lineups in a matter of minutes. With features that allow you to Like 😀 Love 😍 or Dislike 😡 a player, you can create a fully unique pool of players to generate your lineups from every day. Combine the power of the Domination Station with our VIP Only Articles and the NBA Research Station to really take your game to the next level.
💥 HOU – PG – Chris Paul – $7,800 / $6,900
CP3 recently came back from a long stint on the shelf and he's picked up right where he left off. He's scored over 31.6 fantasy points in all 6 games since coming back from Injury and he's scored over 39 fantasy points in 3 straight. Over his last 5 games, he is averaging 32 minutes and 41.1 fantasy points per game. With a price tag under $8k at $7,800 on Fanduel he has great upside at this price. He's an even BETTER play on Draftkings priced at only $6,900. We don't typically see players of this caliber priced under $8k so take advantage of this tonight.
💥 WAS – SG – Chasson Randle – $3,500 / $3,300
We just received word that Tomas Satoransky is going to be OUT tonight for the Wizards. While this probably wont move the needle in terms of NBA News today, this is great news for us DFS players who can now take advantage of Chasson Randle entering the starting lineup at min price. Randle is probably not a guy who is going to put up 50 fantasy points but at min price playing around 30 minutes, he should be able to SMASH value here tonight. He played 25 minutes on Saturday and scored 24.1 fantasy points in the Wizards 134-125 win over the Bulls. The Wizards take on the Pistons who are pretty much league average Defensively vs Point Guards but the locked in minutes make him one of the best value plays on this slate!
AND 1 Top 3's today
The AND 1 rating was developed by Ben Jammin @xBenJamminx and is apart of our NBA Research Station.The rating is an all-encompassing metric that will lead you to the best plays on each slate each day. One of my favorite things to do is use the ADORE 😍 feature in the Domination Station on all of these players so that I'm sure to get heavy exposure to them across my lineups.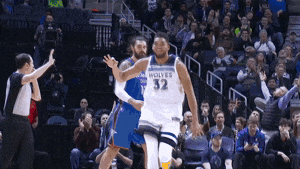 Karl Anthony Towns has the #1 AND1 Rating tonight of 22.5 in his matchup vs the Clippers today. On the Season the Clippers have played at a 104 Pace and have a 109 Team Defensive Efficiency Rating. They also allow 14% more Fantasy Points to Centers than the League Average. The Big KAT he should be in line for a great game tonight! Check out the Rest of the top-rated AND1 players below.
PG – Russell Westbrook
Kyle Lowry
Chris Paul
SG – James Harden
Andrew Wiggins
Jordan Clarkson
SF – Giannis Antetokounmpo
Kawhi Leonard
Bojan Bogdanovic
PF – Blake Griffin
Kevin Love
Pascal Siakam
C – Karl-Anthony Towns
Andre Drummond
Jusuf Nurkic
---
Now is the time to get on board and join a great community that is driven to help you improve your DFS Game!
Our DFS Army VIP Members  get access to
💥 Research stations 💥 Domination Station Optimizer 💥 VIP Articles 💥 One on One Coaching