Welcome to the DFS Army NBA 1st look article. In this article, I'll try to give you a quick glance at the NBA slate each morning.
Below, I'll go over some of the Vegas info and some of the Injury situations we're monitoring throughout the league for today's slate.
---
Our DFS Army VIP Members  get access to
💥 Research stations 💥 Domination Station Optimizer 💥 VIP Articles 💥 One on One Coaching
I am confident that our Content, Tools, and One-on-One Coaching will help you become a more competitive player right out of the gate.
Simply click the link below to join the best community in the daily fantasy sports industry!
Use Coupon Code CEEGEE to save 20%
---
NBA Slate Preview February 11th
New York Knicks 104.3 at Cleveland Cavaliers 105.8
Vegas CLE -1.5 Total 210
Washington Wizards 108 at Detroit Pistons 112
Vegas DET -4.0 Total 220
Charlotte Hornets 106.3 at Indiana Pacers 111.3
Vegas IND -5.0 Total 217.5
Brooklyn Nets 108.3 at Toronto Raptors 118.3
Vegas TOR -10.0 Total 226.5
Milwaukee Bucks TBD at Chicago Bulls TBD
Vegas TBD Total TBD
Dallas Mavericks TBD at Houston Rockets TBD
Vegas TBD Total TBD
Los Angeles Clippers TBD at Minnesota Timberwolves TBD
Vegas TBD Total TBD
Portland Trail Blazers 112.3 at Oklahoma City Thunder 118.8
Vegas OKC -6.5 Total 231
Miami Heat at Denver Nuggets
Vegas TBD Total TBD
The NBA Research Station is my #1 source for research every single day and is one of the VIP Only tools our members have access to daily. The info in the NBA ReSearch Station includes today's 📊 DFS Army Projection, Adjusted DVP matchups and much more. This tool will cut your daily research time in half. If you're familiar with Me and Ben you already know the time we've put into the "Sheets" and we're extremely happy to provide them as apart of your DFS Army VIP Membership this year.
💥 Top Pace up matchups
Pace Up team in BOLD
Chicago Bulls vs Milwaukee Bucks + 4.4
Portland Trail Blazers vs Oklahoma City Thunder + 4.1
Cleveland Cavaliers vs New York Knicks + 3.4
Detroit Pistons vs Washington Wizards + 3.1
Houston Rockets vs Dallas Mavericks + 1.6
💥 Worst Defenses to attack on tonight's slate
Ranked by Team Defensive Efficiency – Bad defensive team in BOLD

New York Knicks vs Cleveland Cavaliers – 30th
Cleveland Cavaliers vs New York Knicks – 29th
Milwaukee Bucks vs Chicago Bulls – 28th
Washington Wizards vs Detroit Pistons – 25th
Detroit Pistons vs Washington Wizards – 24th
Our NBA Domination Station lineup optimizer is Powered by DFS Army proprietary projections. The Domination Station will help you create 150 of the highest projected lineups in a matter of minutes. With features that allow you to Like 😀 Love 😍 or Dislike 😡 a player, you can create a fully unique pool of players to generate your lineups from every day. Combine the power of the Domination Station with our VIP Only Articles and the NBA Research Station to really take your game to the next level.
💥 We will have more detailed breakdowns and analysis today in our VIP ONLY Members area.
BKN – DeMarre Carroll – Questionable
CHA – Tony Parker – Doubtful
CLE – Cedi Osman – Doubtful
DEN – Gary Harris – OUT
DEN – Paul Millsap – Questionable
IND – Doug McDermott – Questionable
MIN – Jerryd Bayless – Questionable
MIN – Derrick Rose – Questionable
OKC – Jerami Grant – OUT
WAS – Jeff Gren – Questionable
As more news drops we will let you know exactly who is out and exactly who benefits with each situation.
Here are some examples of the breakdowns you get in our Coaching Notes when NBA news starts to drop.
AND 1 Top 3's today
The AND 1 rating was developed by Ben Jammin @xBenJamminx and is apart of our NBA Research Station.The rating is an all-encompassing metric that will lead you to the best plays on each slate each day. One of my favorite things to do is use the ADORE 😍 feature in the Domination Station on all of these players so that I'm sure to get heavy exposure to them across my lineups.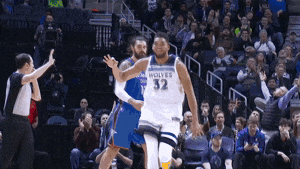 Karl Anthony Towns has the #1 AND1 Rating tonight of 22.5 in his matchup vs the Clippers today. On the Season the Clippers have played at a 104 Pace and have a 109 Team Defensive Efficiency Rating. They also allow 14% more Fantasy Points to Centers than the League Average. The Big KAT he should be in line for a great game tonight! Check out the Rest of the top-rated AND1 players below.
PG – Russell Westbrook
Kyle Lowry
Chris Paul
SG – James Harden
Andrew Wiggins
Jordan Clarkson
SF – Giannis Antetokounmpo
Kawhi Leonard
Bojan Bogdanovic
PF – Blake Griffin
Kevin Love
Pascal Siakam
C – Karl-Anthony Towns
Andre Drummond
Jusuf Nurkic
---