Full Court Press Breakdown for NBA DFS 8/30:
Boston Celtics @ Toronto Raptors
Vegas Total: 217.0
Vegas Spread: Tor -2.5
We kick off the second round of the playoffs with this game as both teams take care of the Nets and Sixers respectively. We'll get started with the Celtics, Jayson Tatum has struggled in this spot compared to his price tag this season. He's averaging 35 DraftKings points per game in four games against the Raptors on the year. That said, he's kicked things into overdrive lately and his coming off a 60 point DraftKings night last time out. I can't say I love the price on him but he's in play for GPPs at the very least. Kemba Walker has scored at least 47 DraftKings points in each of his last two games and is finally getting big minutes. He's a guy that I really like the price tag on and should be overweight the field. Jaylen Brown played over 40 minutes in each of the final two games in the last series, I wouldn't expect that to change here, I like him for GPPs, as he has a huge upside. The same thing goes for Marcus Smart although he's struggled big-time averaging just 18 DraftKings points per game against the Raptors this season, however with Hayward out this may change things for the better for Smart. Lastly, I think you flip a coin if you're deciding on who to play between Enes Kanter and Daniel Theis it's not a great matchup for either guy against Marc Gasol and I'll probably just end up going elsewhere. From the Raptors, Pascal Siakam has back to back 45 point DraftKings outing, I can't remember the last time that happened. You can take advantage of the Celtics in the frontcourt, so I like this spot for Siakam a good deal. Both Kyle Lowry and Fred VanVleet are similar prices and both are really a solid option for both cash and GPP, if I had to pick one it would probably be VanVleet just because he's been so good in the playoffs and has flashed a huge ceiling. Serge Ibaka isn't playing very many minutes, but oh man is being productive. He played 20 minutes last game on his way to 55 DraftKings. We can chalk some of that up to playing against the Nets, but the Celtics frontcourt is pretty bad as well, I don't hate going back to him in GPPs. Lastly, OG Anunoby has at least 20 DraftKings points in six straight games, the upside isn't there with him but if you need a guy to round out your cash lineups you could do worse.
5-star play: Jayson Tatum, Kemba Walker, Pascal Siakam
4-star play: Jaylen Brown, Marcus Smart, Kyle Lowry, Fred VanVleet
Deeper Value: Enes Kanter
GPP Sleeper: Enes Kanter, Serge Ibaka
Los Angeles Clippers @ Dallas Mavericks
Vegas Total: 238.5
Vegas Spread: Lac -10.5
We'll start things off with the Mavericks, Kristaps Porzingins will miss the rest of the season with an injury while Tim Hardaway, Trey Burke, and Dorian Finney-Smith are all questionable here. I'll operate under the assumption that the questionable guys all play but we can take into account the Porzingis news. With Kristaps off the floor this season, Luka Doncic has a 38.3% usage rate and averaging 1.67 fantasy points per minute. He makes for one of the better raw options on the slate. Tim Hardaway Jr. will be asked to pick up some slack on the scoring end making him a very viable option here and has played well in the playoffs. Meanwhile, Seth Curry and Trey Burke make for solid GPP options as they have flashed some upside and aren't too expensive. Lastly, Maxi Kleber will need to fill in for Porzingis but I just don't think Kleber is that good and his price has come up a good deal, I don't see myself getting to a ton of him. Keep an eye out for that starting lineup, they may throw Boban Marjanovic in at starting center. If this is this case he can be played as a value play but understand that he may only see around 15 minutes. From the Clippers, we know how good Kawhi Leonard can be in the playoffs and in a great matchup against the Mavericks at $10.1k, sign me up. He has at least 50 DraftKings points in five straight games and is just so solid, he's an excellent cash game option and has the upside you're looking for in GPPs as well. Paul George has been painfully bad this series, however, he looked halfway decent last game, I don't love the price tag on him but on a short slate, I think it makes a lot of sense in a put-away game for the Clippers. Lou Williams didn't play a whole lot last game due to blowout and that may be the case again here, however, I'm willing to go back to him here. Montrezl Harrell played 23 minutes last game on his way to 37 DraftKings points, he's risky but if the Clippers decide to give him more minutes like this he'll be in play for GPPs at the very least. Ivica Zubac makes sense as a GPP center option and a guy that we can use as value on a short slate. Lastly, Marcus Morris bounced back nicely last game after a dud in game four, I like him for GPPs but I don't know how much I trust him for cash games.
5-star play: Luka Doncic, Kawhi Leonard
4-star play: Tim Hardaway Jr., Lou Williams, Paul George, Maxi Kleber
Deeper Value: Ivica Zubac, Boban Marjanovic
GPP Sleeper: Tim Hardaway Jr., Ivica Zubac, Lou Williams, Seth Curry, Maki Kleber
Denver Nuggets @ Utah Jazz
Vegas Total: 220.0
Vegas Spread: Utah -2.5
Starting with the Jazz,  Mike Conley has been very consistent since returning to the bubble. His price has come up here but I think he's still a perfectly viable play on a three-game slate. We know Mitchell and Gobert will get their shots but Joe Ingles will take the biggest blow with Conley back as he has just a 0.74 fantasy point per minute with Conley on the floor this year. I hate the price tag on Donovan Mitchell, however, there is no denying the ceiling he has right now. I would leave him for GPPs just in case he has another one of those games where he and Jamal Murray just trade-off buckets all game. Rudy Gobert continues to produce consistent games, I don't love him for GPP because he really hasn't shown a ceiling but I like his consistency for cash games. I was all over Royce O'Neale last time out and he ended up being pretty average. His price has come up but he's still playing huge minutes. Due to the playing time he's getting he's still in play for me on a short slate. From the Nuggets, Nikola Jokic was pretty solid last game and they'll need him here if they want to avoid elimination, he's an excellent play at this price tag. Michael Porter surprisingly played 34 minutes last game, I likely won't get much of him because I don't think he sees that many minutes again, but if he does he could make for a great GPP play. Jerami Grant and Monte Morris drew the start for the Nuggets last game but neither of them did a whole lot with this opportunity. It was nice to see Morris play 36 minutes however and is in play if he's going to get that type of run. Morris becomes unplayable if Gary Harris is active, however.  Lastly, Jamal Murray is throwing the team on his back right now and just ballin out there. I can't believe he's playable at this price tag, but with this upside and usage that he's having right now, it's tough to ignore him.
5-star play: Nikola Jokic, Jamal Murray
4-star play: Rudy Gobert, Donovan Mitchell, Paul Millsap, Jamaal Murray, Mike Conley, Jerami Grant, Monte Morris
Deeper Value: Royce O'Neale, Monte Morris
GPP Sleeper: Joe Ingles, Jerami Grant, Michael Porter Jr.
Our NBA Full Court Press is FREE in part to SuperDraft DFS.  SuperDraft has an outstanding offer for first time players for a limited time.  Gain a 50% deposit bonus up to $1,000 on your first deposit.  While most of the industry offers smaller bonuses, or special invite-only offers, SuperDraft is getting aggressive….and we want to take advantage!

SuperDraft is full of soft competition in any sport.  Many of the industry sharks refuse to play there because they can't get the volume they desire.  Perfect for smaller players, or wannabe sharks, our staff has tremendous coverage of their unique multiplier format, too.  See our special columns in our cheatsheets!
Our NBA Domination Station lineup optimizer is Powered by DFS Army proprietary projections. The Domination Station will help you create 150 of the highest projected lineups in a matter of minutes. With features that allow you to Like 
 Love 
 or Dislike 
 a player, you can create a fully unique pool of players to generate your lineups from every day. Combine the power of the Domination Station with our VIP Only Articles and the NBA Research Station to really take your game to the next level.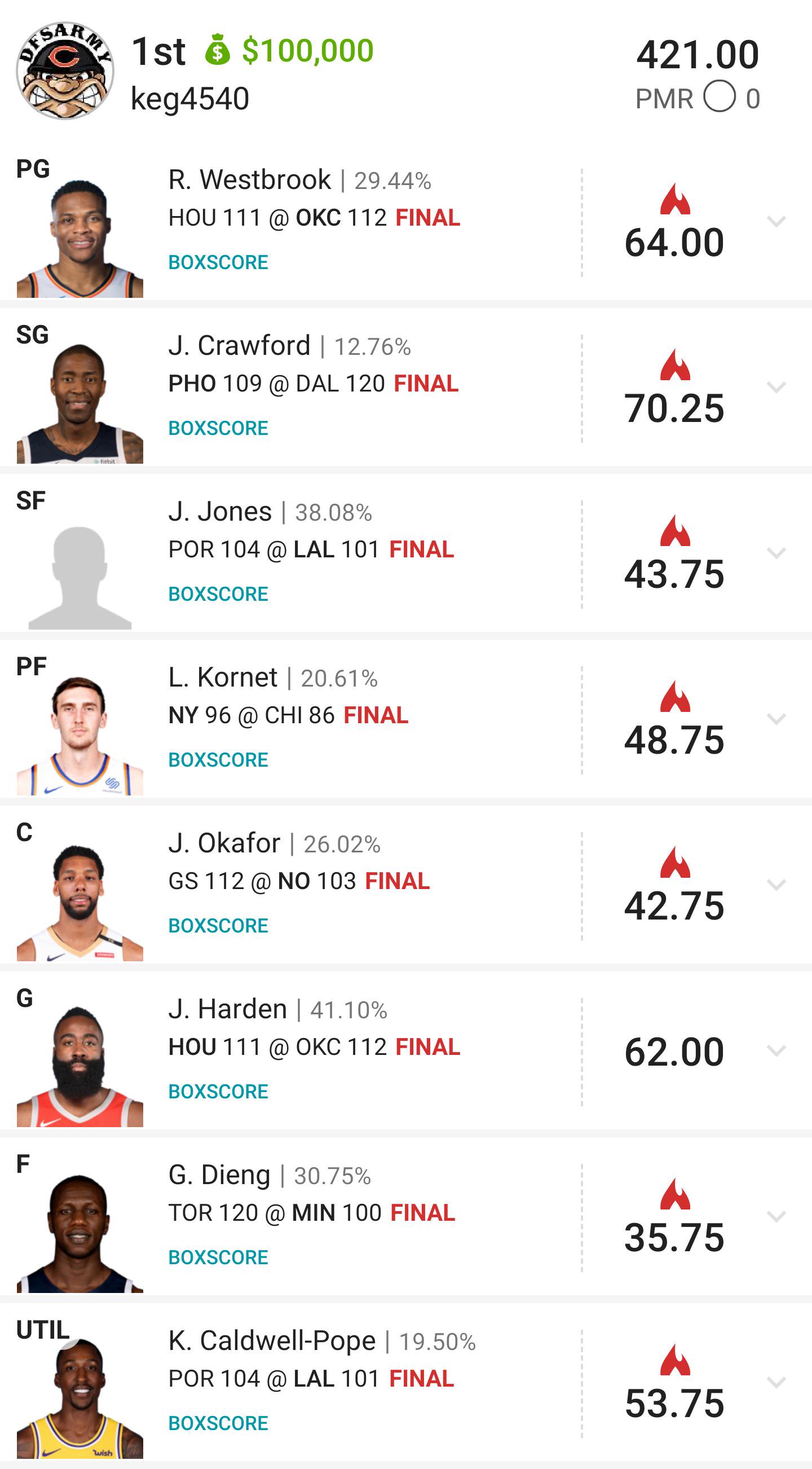 NBA Lock of the Day: Kemba Walker (DK – $7.2k; FD – $7.8k)
Kemba finally got his minutes back toward the end of the last series, as long as he's getting minutes I'm going to have an interest at this price tag. He's averaging 35.3 DraftKings points per game in four games against the Raptors on the season and has at least 47 DraftKings points in his last two games. The Domination Station has him projected for 5.5x value on his price tag, I love me some Kemba here! Tweet me (@MadnessDFS) your lock predictions and if your player gets over 6.5x I'll give you a shoutout on Twitter, let's have some fun with this!
The only thing you are missing at this point is the key to unlock the next level of your game.  Come inside and check us out!!  We have experts sharing their secrets and experience on a daily basis.  Combine that with the actual ability to ask them questions and get quick answers in return gives you a recipe for success that puts our army hats on leaderboards all over the face of DFS.
When you sign up, don't forget to use promo code MADNESS to save 20% on your membership each and every month!
Editor's Note – However, if you are more interested in simply betting the games, NBA is full of crazy action.  And, our dynamic modeling over at SportsBetArmy adjusts in real time to help identify Vegas inaccuracies you can exploit.  Follow Ryan, Anthony, and Statsational for models and coaching advice that help you build any bankroll for any sport…